RIT team identifies Frederick Douglass land deed
The purchase proved the abolitionist was interested in investing in Rochester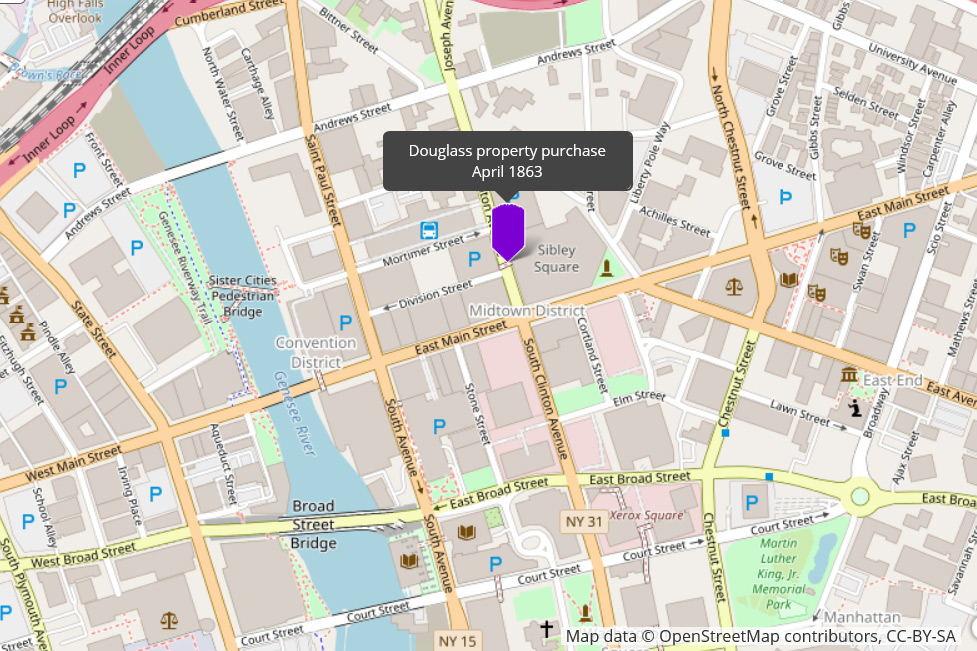 Frankie Albin
A research team from Rochester Institute of Technology has identified a land deed dating from the Civil War that shows abolitionist Frederick Douglass purchased property in what is now downtown Rochester. The deed is a revelation to scholars seeking to understand Douglass's role as a businessman and landholder in Rochester.
Douglass, who was born into slavery 200 years ago, lived in Rochester for 25 years—longer than anywhere else he had lived—and was buried in Mt. Hope Cemetery in 1895.
"This is an important document and we're thrilled to have found out about it during the Douglass bicentennial," said Richard Newman, a history professor in RIT's College of Liberal Arts, who identified the document while working with undergraduate students at the Rochester Historical Society. "This property deed tells us that Douglass saw Rochester not only as his activist home, but a community that he wanted to invest and build in as a businessman and civic leader."
Douglass bought land at 28-30 North Clinton Ave. in April 1863. He took out a mortgage and insurance on the property, which later would eventually become part of the Sibley Building in the 20th century.
Newman said Douglass purchased the land from a white abolitionist colleague who had once been his neighbor on Alexander Street.
 "He may have wanted to move his printing business to Clinton Avenue or he may have wanted to create housing units for African Americans returning from the war," Newman said. "Whatever he wanted to do, Douglass felt strongly about tying his future to the city of Rochester. It's where he matured as an activist, an editor, a community leader and a statesman."
Douglass eventually lost the property after the Civil War. Newman said Douglass spent an increasing amount of time beyond Rochester on recruiting trips and lecture tours supporting the Union cause. Unable to pay the mortgage, it reverted to the original owner—who sold the property for nearly twice as much.
"This is also a story about the making and losing of black wealth during the 19th century," Newman said. "Douglass helped win the Civil War but he lost an important investment."
Douglass moved to Washington in 1872 but retained his home in Rochester on Hamilton Street that he purchased in 1855.
"The discovery of this important property deed sheds new light on the life and work of Frederick Douglass in Rochester and demonstrates that he fully understood, just as Dr. Martin Luther King Jr., would articulate some 100 years later, that true freedom for former slaves must also include economic equality," said Rochester Mayor Lovely Warren. "We already know of Douglass as an author, orator and abolitionist, and now we also know him as one of Rochester's earliest investors. I want to commend the RIT research team and the Rochester Historical Society for their work to uncover this new chapter of Douglass's life in our city. This story of Douglass's devotion to the vitality of Rochester goes hand in hand with our efforts to create more jobs, safer and more vibrant neighborhoods and better educational opportunities for our citizens."
In December, Newman and RIT undergraduate researchers identified the Douglass property deed in the Rochester Historical Society. Their research was made possible with a grant from the National Endowment for the Humanities to help students focus on the historical, economic and cultural meanings of community in and beyond Rochester. The project, titled, "Community, Memory and a Sense of Place," was made from NEH's Humanities Connections grant program.
"The Rochester Historical Society has a treasure trove of important documents that can help educators, scholars and members of the community learn more about Rochester's amazing role in our nation's past," said Carolyn Vacca, professor of history at St. John Fisher College and historical society president. "We're proud that the historical society has preserved this key record of Douglass's business career for so many years. It shows that we are truly Rochester's story keeper."
Michael Brown, assistant professor of history at RIT and a member of the board of trustees for the Rochester Historical Society, said the society, open 9 a.m. to 2 p.m. Mondays and Wednesdays and by appointment at 121 Lincoln Ave., welcomes others interested in researching local history. Call 585-623-8285.