RIT Team Prepares for Flight Aboard NASA's 'Weightless Wonder'
RIT student and three alumni will conduct experiment to test feasibility of inkjet printing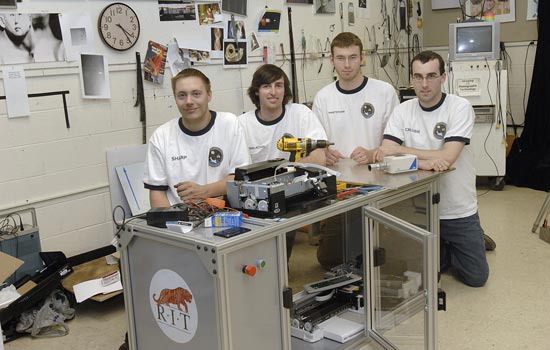 A. Sue Weisler
A current student and three recent alumni from Rochester Institute of Technology will venture to NASA Johnson Space Center's Ellington Field in Houston this month to conduct an experiment aboard the agency's "Weightless Wonder" aircraft.
Each year, the Reduced Gravity Student Flight Opportunities Program gives undergraduate students the opportunity to propose, build and fly a reduced gravity experiment. The teams will perform the experiments aboard NASA's C-9 aircraft, which produces weightlessness 18 to 25 seconds at a time by executing a series of about 30 parabolas—a steep climb followed by a free fall—over the Gulf of Mexico. During the free falls, the participants will be able to gather data in the unique environment and experience near-weightlessness.
RIT's opportunity to participate results from the hard work and commitment of James Craven, Greg Sharp, Christopher Ubelacker and Jarret Whetstone, all part of RIT's imaging and photographic technology program in RIT's College of Imaging Arts and Sciences. Craven, Sharp and Whetstone graduated from RIT in May. Ubelacker is expected to complete his studies this fall.
"My team and I are very excited for the opportunity," says Christopher Ubelacker, an RIT fourth-year imaging and photo technology major. "It will make the countless hours of work that we all have done worthwhile and that much more rewarding. Not many people get this chance and being among a select few is an opportunity of a lifetime."
The RIT team is among 50 teams selected from more than 70 proposals based on scientific merit and educational outreach potential. They have put many hours into researching and building their experiment. Other universities participating in the program this summer include: Brown University, Cornell University, Purdue University, Penn State, Texas A&M and University of Michigan.
"We are excited that our program provides once-in-a-lifetime opportunities for aspiring scientists and engineers to study and understand their craft. The students gain useful skills by participating in the program through collaborative planning and teamwork," said Douglas Goforth, manage of the Reduced Gravity Student Flight Opportunities Program.
RIT's student team will arrive at Ellington Field, where astronauts do their T-38 training, on July 10. They will then go through physiological training and fly their experiment on July 17 and 18.
This experiment will demonstrate the feasibility of inkjet printing in a microgravity environment, focusing on printheads, the ink drop characteristics, ink drop flight and printing accuracy. Two different types of printhead technologies will be tested using an Epson C120 piezo-electric printhead and a Kodak EasyShare 5100 thermal printhead. Two printers, a laptop computer and a drop analysis device will be included in the testing apparatus.
"In this experiment we will be the first to understand how inkjet printheads will function in a microgravity setting," says Ubelacker. "We specifically will be looking for the differences between normal printing on the ground and printing on the C-9. The comparison between these two environments will be the starting point for further research with the overall goal of possibly utilizing modified inkjet technology for space applications in the future."
Following their flight, the team will evaluate findings, draw conclusions and provide the results to NASA.
##
Note: For more information about the Reduced Gravity Student Flight Program, visit the Web site at http://microgravityuniversity.jsc.nasa.gov or contact Jenna Mills at NASA Johnson Space Center's Public Affairs Office at (281) 483-5111 or jenna.c.mills@nasa.gov.
Note: Photo caption information: Pictured left to right: Greg Sharp, Christopher Ubelacker, Jarret Whetstone and James Craven