RIT tourism programs touted as among the best
School of International Hospitality and Service Innovation recognized by TheBestSchools.org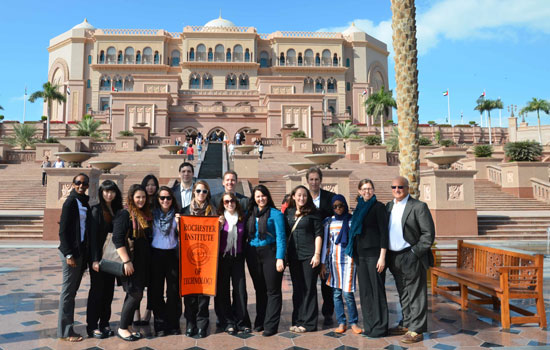 Photo provided by Rick Lagiewski
Hospitality and tourism programs at Rochester Institute of Technology are among "the 20 best tourism degree programs" in the nation, according to a new ranking by TheBestSchools.org, an independent organization that rates colleges in a variety of degree programs.
The School of International Hospitality and Service Innovation, based in RIT's College of Applied Science and Technology, offers bachelor's degrees in international hospitality and service management as well as master's degrees in hospitality and tourism management.
"We selected the tourism and travel management degree programs based on the quality of the program, the types of courses offered, the faculty, rankings, awards and reputation," said James Barham, general editor for TheBestSchools.org.
The editors of TheBestSchools.org recognized RIT's programs for advancing the skills students will need to deliver excellence in leadership within many corporate settings, government policy positions and tourism agencies.
"The sky is the limit for people with the training, experience and desire to excel in the exciting travel and tourism industry," says Carol Whitlock, chair of the hospitality and tourism management department. "Our graduates exhibit a spirit of innovation and enthusiasm to improve products, customer service and business outcomes."
The department takes a multicultural, international approach in its courses, and opportunities for international experiences are offered at RIT campuses abroad and elsewhere, Whitlock adds. Students in RIT's program have taken classes in tourism and service leadership at RIT's colleges in Croatia and Dubai, as well as traveled throughout Italy, the United Arab Emirates and along the Adriatic Coast, meeting with hotel and resort general managers, financial and business directors as well as human resource professionals to learn more about skills required to serve in these capacities. International study abroad experiences are supported by the department's corporate partners, the Statler Foundation and Constellation Brands.
A tourism degree allows students to work in sectors such as food service operations, visitor bureaus and conventions, recreational business, tourism development agencies, hotels, resorts, theme parks, international travel and tourism agencies, airlines and casinos. Barham noted that the U.S. Bureau of Labor Statistics forecasts a 44 percent employment growth for hotel meeting planners from 2010 to 2020. A bachelor's or master's degree "provides a major step in getting a foot in the door to this massively growing industry and once inside, people have extensive career options," Barham said.
More information about the tourism survey can be found at TheBestSchools.org.