RIT Unveils Festival Designed to Celebrate Innovation and Creativity
PAETEC to serve as premier sponsor of the May 3 festival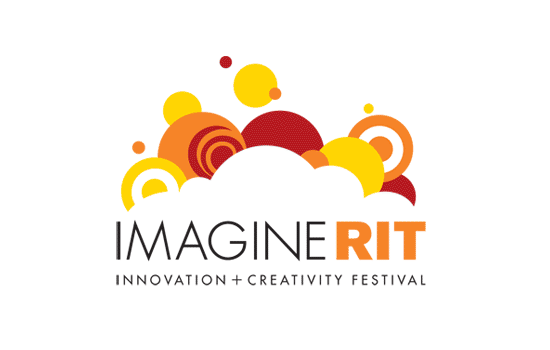 Imagine RIT: Innovation and Creativity Festival is poised to become the new annual kickoff to Rochester's rich festival season.
Imagine RIT, which will take place from 10 a.m. until 4 p.m. Saturday, May 3, on the Rochester Institute of Technology campus, is designed to demonstrate what can be accomplished when, as RIT President Bill Destler likes to say, "the right and left brain collide."
More than 400 interactive exhibits and displays will be featured in various locations across campus. Topics include new ideas for products and services, the creative arts, research and design projects and unique performing arts productions.
"The festival's mission goes beyond showcasing the thriving RIT campus. We see it as a call to national service," Destler says. "Innovation is one of our country's last competitive advantages. Young Americans walk to the beat of their own drummer, and their desire to be different is an innate American characteristic. Channeling that passion in constructive ways will foster the United States' leadership in technical innovation and creative ideas for new products and services."
PAETEC will serve as the premier sponsor of the inaugural event.
"There's a reason we look to RIT for potential employees, and that is the ability these graduates have to approach problems from many angles, and to not be afraid to try something new," says Robert Moore, Jr., chief information officer for PAETEC. "We are proud to support Imagine RIT, and want the community to experience the innovation and creativity found on this campus."
The Imagine RIT experience will be divided into 10 themes, as festival-goers will be asked to Imagine…
Being Green: alternative energy and sustainability

Healthy Living: sports, nutrition and other wellness-related topics

A Global View: diversity and multiculturalism

Innovative Science and Technology: ground-breaking scientific research and cutting-edge technology

Creative Play: interactive fun for all ages

A Communication Revolution: social networking and other new communication mediums

On Stage: musical and theatrical performances

Artistic Visions: woodworking, ceramic and glass sculptures, photographic exhibits, student-produced films and more

New Ventures: start-up businesses from RIT's incubator, innovative marketing and business plans

WOW! Imagine That!: top cross-disciplinary projects, featuring displays from each of RIT's eight colleges, will be housed in the Gordon Field House and Activities Center

There will also be the traditional festival fare: food, rides, music, inflatable activities and fun.

Since taking over as president last year, Destler has championed what he calls RIT's "unfair advantage"—its unique combination of programs in the arts and sciences, coupled with the diversity offered by the presence of the National Technical Institute for the Deaf.

"All of this could be the makings of the nation's first 'Innovation University.' Indeed, RIT has an unfair advantage in this area with its unique program mix and diverse student body," Destler says. "Now we need to show off this extraordinary place to the world. We want to attract 30,000 people to this distinctive festival. I look forward to seeing you—rain or shine—on May 3."

Along with PAETEC, other major sponsors for the festival include Toyota (Welcome Center sponsor), Xerox (Wow! Center sponsor) and New York State Sen. Jim Alesi (patron sponsor). To see a full list of all the sponsors, visit www.rit.edu/imagine/sponsors.html.

##