RIT, U.S. Transportation Department to Study Impact of Freight Shipping
Five-year agreement seeks to enhance environmental quality and reduce emissions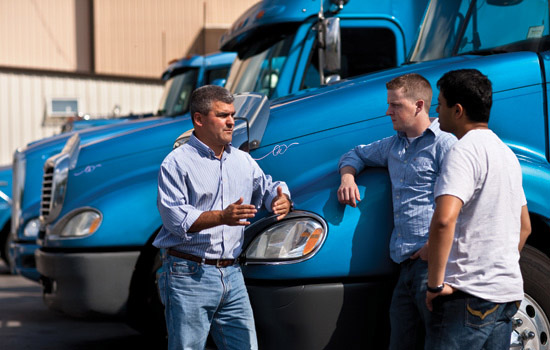 John Myers
Rochester Institute of Technology has signed an agreement with the U.S. Department of Transportation to conduct a series of joint research initiatives designed to analyze and reduce the environmental impacts of freight transportation.
The five-year initiative between the department's Maritime Administration and RIT's Lab for Environmental Computing and Decision Making will include examination of the use of intermodal freight transportation options, including rail, ship and truck, to reduce greenhouse gas emissions and American dependence on fossil fuels. It also seeks to better inform American policymakers on the best climate-change mitigation strategies.
"Close to 30 percent of all greenhouse gas emissions come from transportation sources," says Scott Hawker, associate professor of software engineering and co-director of the Lab for Environmental Computing and Decision Making. "This collaboration seeks to combine the resources of RIT and the Maritime Administration to implement technologies and public policies that can reduce transportation's climate impact."
The first project seeks to create a Web-accessible version of RIT's Geospatial Intermodal Freight Transportation, or GIFT model. The technology utilizes mapping software, similar to Google Earth, to analyze various freight transportation routes and provide information on cost, time and emissions parameters for each mode.
"The GIFT model allows transportation planners to better assess the impact of goods movement on the environment, while helping freight managers examine which transportation modes best balance cost, time and environmental impact," notes Karl Korfmacher, associate professor of environmental science and one of the lead developers of GIFT. "Through the creation of a user-friendly Web version we can increase utilization of the model as a planning and research tool, while also generating needed user feedback to improve functionality."
The collaboration with the Department of Transportation builds on nearly a decade of research conducted by Korfmacher; Hawker; James Winebrake, chair of the Department of Public Policy at RIT; and James Corbett, professor of maritime science at the University of Delaware. In addition, the RIT team is developing a University Transportation Center that would allow for more expansive transportation research at RIT and collaboration with additional research centers and state and federal agencies.
##