RIT welcomes largest-ever class of Rochester City Scholars
New class includes 32 top students from the Rochester City School District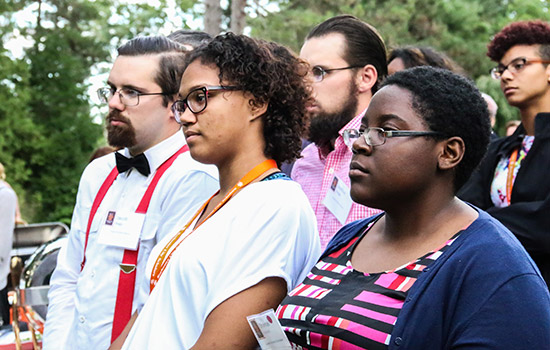 Devon Watters
Rochester Institute of Technology will welcome the eighth class of Destler/Johnson Rochester City Scholars at a ceremony at 6 p.m. Monday, Aug. 28, at Liberty Hill, located at 2201 Lehigh Station Road, Henrietta.
This will be the largest class of scholars in the program's history, composed of 32 students from East, Edison, Franklin, Rochester Early College International, Rochester STEM, School of the Arts, School Without Walls, Wilson Magnet and World of Inquiry high schools as well as Rochester Academy and University Preparatory charter schools in Rochester. The scholars are enrolled in majors such as biology, business, game design, interior design, mechanical engineering, diagnostic medical sonography and more. Since the program was established in 2010, more than 150 students from the district have attended RIT and received full scholarships toward their degree programs.
More than 100 people are expected to attend the ceremony, including scholars' family members, alumni of the program, community leaders and program supporters. RIT President David Munson will be on hand to welcome the students and deliver remarks.
According to the Rochester City School District, financial challenges prevent more than three-quarters of its students from attending college. Nearly 90 percent of the district's families earn $21,000 or less annually. Recognizing these obstacles, former RIT President Bill Destler and his spouse, Rebecca Johnson, founded the Rochester City Scholars Program, which covers full tuition at RIT for those meeting eligibility requirements.
To date, gifts and pledges to the scholarship fund stand at more than $5 million, including nearly $1.5 million donated by Destler and Johnson. The program was renamed in their honor in June.