RIT well represented at Digital Rochester GREAT Awards
Winners honored Sept. 19 for leadership, skill, vision and advancing innovation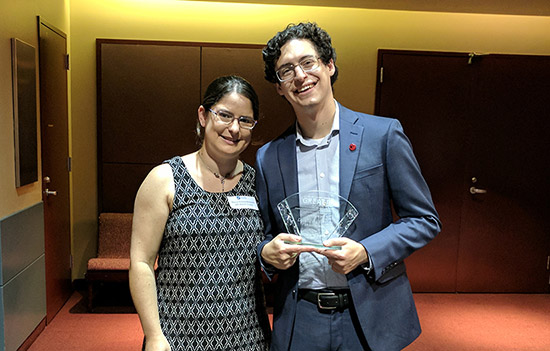 A staff member of Rochester Institute of Technology and two RIT alumni won top awards for their innovative creations and technology leadership at the 2017 Greater Rochester Excellence and Achievements in Technology Awards, presented by Digital Rochester Inc. The ceremony was held Sept. 19.
The annual awards recognize and celebrate the Greater Rochester community's entrepreneurial spirit in technological achievement for advancing commerce and resource conservation.
Dan Schneiderman, FOSS@MAGIC research associate and community liaison for RIT, won the Emerging Tech Leader Award, which recognizes a high potential individual with fewer than five years in a technology industry who has already made significant contributions to the profession and has demonstrated the potential for exceptional leadership and continued service in the technology field.
In addition to his work as an RIT/MAGIC Center affiliate, Schneiderman is known as a leader in the maker movement, defined as a technology-based extension of the do-it-yourself culture running the gamut from electronics, robotics and 3D printing to more traditional pursuits such as metalworking, woodworking and other arts and crafts. He is co-chair of Rochester's Mini Maker Faire and was recently selected to represent New York state at the National Week of Making Kickoff at the White House. Schneiderman is also a 2012 graduate of RIT's information sciences and technologies and political science programs.
"It is an incredible honor to win the Digital Rochester GREAT award for Emerging Tech Leader," said Schneiderman. "I would like to thank everyone from the MAGIC Center for all of their support, encouragement, and everything I have learned—and continue to learn—from them. I first started organizing events for the tech and greater community while I was a student at RIT, and it is an absolute honor and pleasure to organize them and help grow the RIT community years later as a staff member."
David Wilson, director of infrastructure for Paychex Inc. and a 2004 graduate of the information technology program in the B. Thomas Golisano College of Computing and Information Sciences, won the Technology Leader Award. This award recognizes a technology business leader responsible for an IT department.
Datto Inc., the premier global provider of backup, disaster recovery and Intelligent Business Continuity solutions, founded by RIT alumnus and Board of Trustees member Austin McChord '09 (bioinformatics), was awarded the Technology Innovation Award. That award is presented to an organization that has shown sustained commitment and leadership in support of innovative technology creation that provided enabling services or resources for other organizations to reach their goals and objectives.
Finalists with connections to RIT were nominated in several categories, including two in the Student Achievement Award category, one for the Digital Marketing award, two for the Technology Innovation Award, two for the Emerging Tech Leader Award, and one for the Healthcare Technology award.