RIT/NTID earns grant for sign-language research
$77K grant will boost opportunities for deaf researchers in this field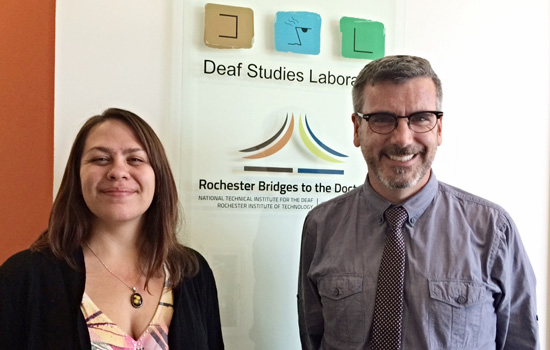 Supplied image
Rochester Institute of Technology's National Technical Institute for the Deaf has been awarded a $77,465 grant from the National Science Foundation that will improve mentorship opportunities for deaf students interested in conducting sign-language research. The award will also pay for American Sign Language/English interpreting services for five deaf students who will participate in the International Conference on Theoretical Issues in Sign Language in January in Melbourne, Australia.
According to Peter Hauser, director of NTID's Rochester Bridges to the Doctorate program and principal investigator of the NSF-funded project, the aim of the mentorship program is to broaden the participation of deaf individuals in disciplines that conduct sign-language research.
"Over the past generation, there have been hundreds of sign-language studies published yet the presence of deaf researchers—users of signed languages—is greatly underrepresented. We want to change that," Hauser said. "Providing mentoring to young deaf researchers allows for expansion of global opportunities and more diverse representation in the field."
The five deaf graduate students who were selected through a national search to participate in the program are Jessica Contreras, an RIT master's of science student in experimental psychology from Eagle River, Alaska; RIT alumni Adam Stone and Geo Kartheiser, studying at Gallaudet University; Leah Geer from University of Texas-Austin; and Jon Henner from Boston University.
"The funding provided by the National Science Foundation for the provision of ASL/English interpreting at the conference will ensure access for deaf Ph.D. students and thus contribute to the important goal of increasing the number of deaf researchers in sign-language research," said Adam Schembri, associate professor, La Trobe University, Melbourne. "The conference series, now in its 30th year, is the single most important international conference on sign-language research."