RIT's Battery Prototyping Center part of state team awarded millions to establish Battery-NY
Collaboration with SUNY Binghamton and NYBEST lays groundwork for advanced battery research, manufacturing and workforce development hub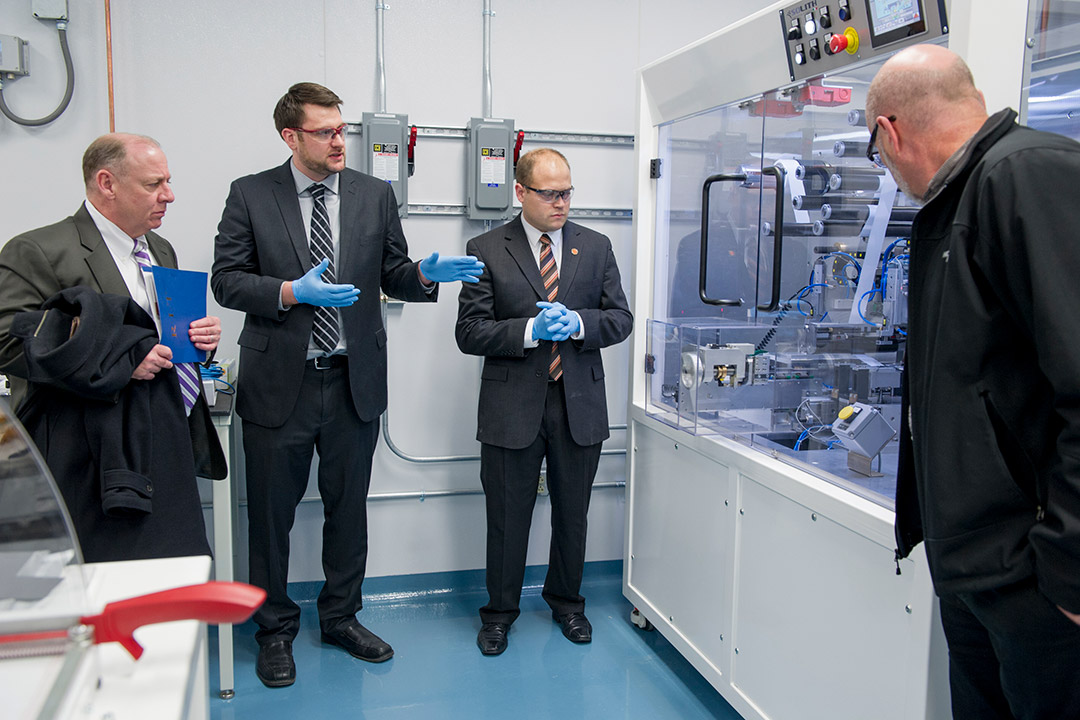 Rochester Institute of Technology is part of a major national initiative that secured more than $63.7 million to establish upstate New York as a national hub for battery research and manufacturing.
New York Gov. Kathy Hochul and U.S. Sen. Chuck Schumer announced that Binghamton University's New Energy New York Proposal secured substantial funding for the new hub, Battery-NY, which will include partners such as RIT's Battery Prototyping Center and New York Battery and Energy Storage Technology.
The new hub aims to build a national center for increasing battery technologies and manufacturing toward new research, attracting additional companies to the state, and the creation of high-paying, high-tech jobs. Funding is part of the U.S. Commerce Department's Economic Development Administration and the American Rescue Plan's Build Back Better Regional Challenge.
RIT's contribution will be an expansion of its energy storage workforce development efforts through nearly $3.5 million from the Battery-NY award. The Battery Prototyping Center is a key resource to support early-stage development of next generation lithium-ion cells and materials. The team has worked with more than 100 customers from academia, government, a variety of industry manufacturers, and technology hubs.
"We are very proud of both the entire NENY coalition and the role RIT was able to play in securing the Build Back Better funding for our region," said Ryne Raffaelle, RIT vice president for research and associate provost. "We are so excited to leverage the RIT/NY BEST Battery Prototyping Facility, along with the BEST Test and Commercialization Center, also located in Rochester at Kodak Park, in support of our coalition partners in the Southern Tier."
Battery technologies are essential for varied industries from automotives and medical devices to defense and national security. Based in Binghamton and led by Distinguished Professor and 2019 Nobel Prize winner M. Stanley Whittingham and Binghamton Associate Vice President Per Stromhaug, Battery-NY will provide research and development of next-generation batteries and other clean-energy technologies to help establish a stronger manufacturing infrastructure.
"New Energy New York will make the Southern Tier and Finger Lakes America's home for battery innovation and production, bring manufacturing back from overseas, and train thousands of workers for good-paying jobs in an industry that will define this century," Schumer said in a statement. "Broome County was once the global home to innovation, as the birthplace of IBM, flight simulation, and virtual reality, and this project will breathe new life into that legacy, showing the world what I have long known: that Binghamton and Upstate New York workers can lead the effort to bring manufacturing back to America, and take us into the future." 
The 13 partners include Binghamton University, NY-BEST, SUNY Broome, SUNY Corning Community College, RIT, and NYSTAR, among other key organizations such as IncubatorWorks, Clean Fight New York, and county and state government entities. Each of the partners will contribute expertise in the areas of manufacturing lithium ion batteries, development of workforce training and in sustainability and new energy alternatives.
Multiple investments have already been made through the bipartisan Infrastructure Investment and Jobs Act, which included $6 billion in federal incentives to expand capabilities of U.S.-based battery research and development, bolster domestic battery production, and shore up the American supply chain for batteries and energy storage technology that is often reliant on foreign sources. A $50 million award was announced by the governor in her January 2022 state address, and the new award from EDA puts the investment in New York state well over $100 million.
Topics