RIT's Carmala Garzione awarded Society for Sedimentary Geology's William R. Dickinson Medal
Society for Sedimentary Geology recognizes Garzione for excellence in research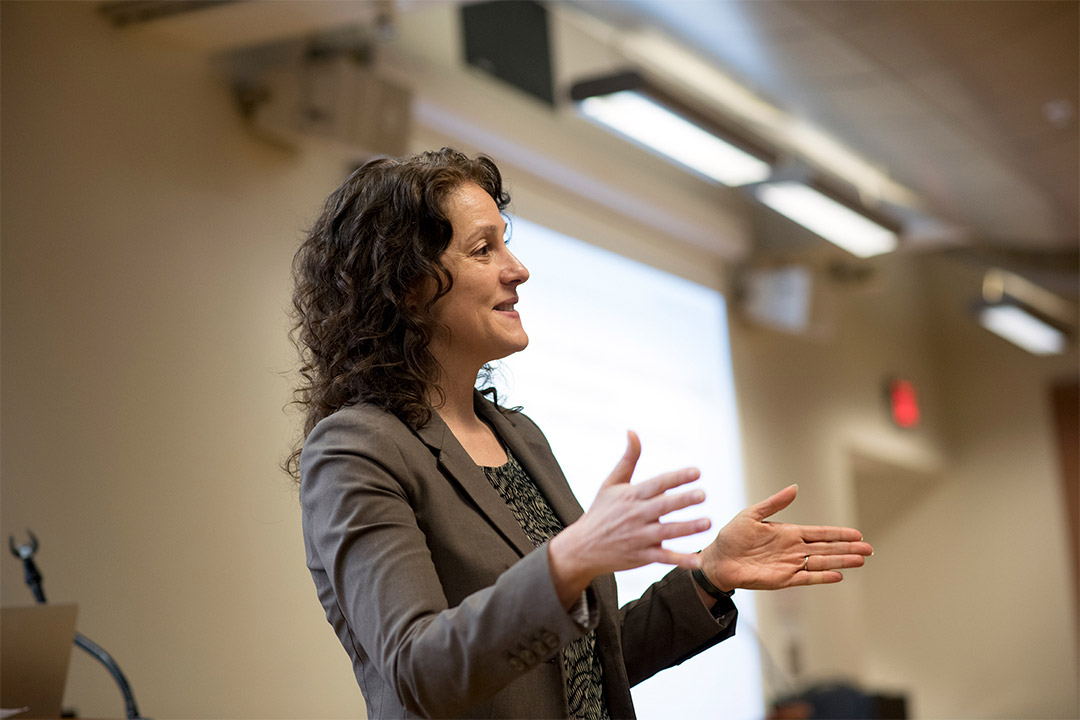 A Rochester Institute of Technology professor has been recognized for excellence in research by the Society for Sedimentary Geology. RIT Associate Provost for Faculty Affairs Carmala Garzione received the 2020 William R. Dickinson Medal.
The society's citation said it awarded this medal "in recognition of Carmala Garzione's pioneering work in developing stable isotope methods for determination of paleoelevation, her contributions to orogenic history and paleoclimate by leveraging the stratigraphic record, and her energetic leadership and service to the geosciences community." Each year the medal is awarded to recognize a mid-career research geoscientist who is significantly influencing the sedimentary geology community with innovative work and with a track record of impactful publications, pioneering approaches, and the establishment of an influential research program.
Garzione's research focuses on the tectonic and climate evolution of sedimentary basins and related mountain belts. Large mountain belts have a significant impact on global climate and geochemical budgets. Her work has documented the growth history of large mountain belts, such as the Himalayan-Tibetan plateau and the Andes, to shed light on the geodynamic processes that build some of the highest elevation regions on Earth. Her sedimentary basin, paleoclimate, and peleoelevation research informs understanding of how the growth and erosion of large mountain belts modulate regional and global climate.
"This is a particularly meaningful honor for me," said Garzione. "Bill Dickinson is my intellectual great grandfather and the father of 'tectonic sedimentology.' His early work defining the physical processes that form sedimentary basins in different tectonic settings changed the research paradigm, sparking interdisciplinary research to address fundamental questions about Earth systems interactions. This approach inspired me and many others to use climate records in sedimentary basins to probe tectonic processes at depth and has fueled decades of research on the interactions between climate and tectonics. Bill Dickinson is one of my intellectual heroes, and so it is a huge honor to receive this award in his name."
In 2019, Garzione joined RIT in the new position of associate provost for Faculty Affairs and as a tenured professor in RIT's College of Science. Prior to that, she most recently served as a professor at the University of Rochester and director of its Center for Energy and the Environment. She holds a Ph.D. and a Master of Science degree in geoscience from University of Arizona and a bachelor's degree in geology from University of Maryland. She has won awards for her undergraduate teaching, is a member of several professional societies, and is the author or co-author of more than 70 publications.
"It is wonderful to see Carmie recognized by the scientific community for her groundbreaking research," said Sophia Maggelakis, dean of the College of Science. "The RIT community is proud to have a scientist of her caliber among our ranks."
Garzione received the award in a virtual ceremony on Wednesday, Oct. 7. To learn more about the award, visit the Society for Sedimentary Geology website.
Topics