RIT's Global Approach to Recruiting Young Women Interested in High Tech Fields
Variety of degree programs, mentoring, social activities and meeting workforce demands are key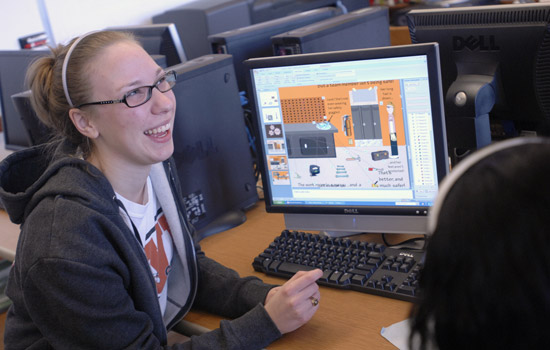 A. Sue Weisler
Like many high school seniors, deciding where to go to college is weighing on the mind of Gretchen Smith. Smith, a standout student at Nazareth Academy, is a member of the school's FIRST Robotics Team, and part of the Academic Scholarship in Computing, Engineering and New Technology program. RIT wants Smith to be among its incoming freshman class of female engineering students. Accepted applicants must decide by May 1.
In an effort to reach the current female applicants specifically interested in the university's undergraduate programs in the science, technology, engineering and math (STEM) disciplines, RIT's Division of Enrollment Management and Career Services hosted a "virtual" college fair on Feb. 26. High school sophomores and juniors who've made inquiries about these programs were also invited to participate in the online chat.
Individual chatrooms were set-up for the Kate Gleason College of Engineering, B. Thomas Golisano College of Computing and Information Sciences, College of Applied Science and Technology and College of Science. The Offices of Admissions and Financial Aid also had its own online room. The high school students could "chat" with female faculty and students from the various STEM majors as well as admissions and financial aid staff members. Young women logged on from all over the world including India, Texas, Vermont, Colorado and Maryland.
"I thought the virtual chat was really helpful," says Smith. "None of the other schools I've applied to have had anything like it so it is a very unique tool. It was nice to chat with administrators because they had all of the answers to my questions, but talking to the students was even better because they are the ones living the college life."
The high school students asked a variety of questions to current RIT students ranging from: "Do you like the quarter system? How diverse is the campus? What made you choose RIT? What is the co-op program like? When you first got to campus, how did you get involved with people?"
One prospective student wrote, "RIT is about six hours away from me, but I plan to visit soon. I'm just trying to do what I can over the Internet before making that kind of trip."
Marian Nicoletti, RIT senior associate director of undergraduate admissions says this inaugural online chat was a success.
"We wanted to do something special to let these young women talk one-on-one with current female RIT students in the STEM majors," says Nicoletti. "Our students are the university's best ambassadors and they along with our faculty did a tremendous job addressing the students' questions. It was also a way to educate our invitees about the numerous community, social and mentoring opportunities RIT has in place for women interested in high tech careers."
In a survey conducted by the U.S. Department of Education, nearly 852,000 bachelor's degrees were awarded to women in the United States in 2006, but only 11 percent of those degrees were in the science, technology, engineering and math disciplines. In contrast, men earned 23 percent of B.S. degrees in those programs.
Bachelor's Degrees Awarded to Women in 2006 Academic Year
All Fields - 851,824
Non-science and engineering fields - 612,551
Social Sciences - 79,350
Psychology - 68,351
Biological and Agricultural sciences - 53,939
Mathematics and Computer Sciences - 15,730
Engineering - 13,300
Physical Sciences - 6,957
Earth, Atmospheric & Ocean Sciences - 1,646
Source: National Center for Education Statistics, U.S. Department of Education
Holistic Approach to Recruiting and Retaining Women
RIT has implemented various strategies university-wide to recruit more women into the STEM disciplines. RIT's Kate Gleason College of Engineering has an extensive outreach program and its enrollment numbers for women reflect its success. In 2007, the freshman engineering class for women was 13 percent. In 2008, that number jumped to a record-breaking 19 percent.
The Kate Gleason College of Engineering has developed the Women in Engineering Program, or WE@RIT, which includes efforts to promote experiential, hands-on learning of engineering concepts among elementary and secondary students and teachers.
The program offers educational and social activities, volunteer and co-op opportunities for RIT students, plus numerous on and off campus events and camps throughout the year for girls in grades K through 12. In addition, WE@RIT works to assist elementary and high school teachers in enhancing engineering and science education. More than 2,700 students and educators participate each year in the WE@RIT programs.
"WE@RIT is a two-pronged effort that seeks to both enhance understanding of engineering concepts among elementary and high school girls while also improving the social and educational environment for women engineering students currently enrolled in the college," says Margaret Bailey, Kate Gleason Endowed Chair and executive director of WE@RIT.
Catina Jelfo attended one of the programming events, WE@RIT Retreat, in spring 2008 while a senior at Nazareth Academy. The retreat is an overnight event held for accepted students.
"The retreat was a lot of fun," says Jelfo. "It was a good way to get to know students on campus and make friends before I started as a freshman."
New Chemical Engineering Degree Program Offered
To continue to meet industry needs and demands, RIT's Kate Gleason College of Engineering has added a chemical engineering undergraduate degree to its portfolio. Chemical engineering is among one of the most popular engineering programs of interest in women. The college also offers bachelor of science degrees in computer, electrical, industrial & systems, mechanical, and microelectronic engineering.
"I suspect that women gravitate to chemical engineering because they have the opportunity in high school to explore the topic of chemistry," says Bailey. "This topic appeals to some women because it has a clear connection to many facets of our everyday lives. There is also a strong connection between chemical engineering and society which appeals to women."
Women in Computing
The B. Thomas Golisano College of Computing and Information Sciences has established Women in Computing at RIT, a group dedicated to providing an environment in which women in the computing disciplines can find support to help them succeed.
"We're striving to build a community for the women in our college," says Sharon Mason, associate professor of networking, security and systems administration and the executive director of Women in Computing at RIT.
Women in Technology
In 2005, the College of Applied Science and Technology launched a Women in Technology program to retain female engineering technology students. Since the program's inception, the program has been expanded to include female students in the college's packaging science and multi-disciplinary studies programs. Students mentor incoming freshman, participate in networking and social events, and develop opportunities for community outreach.
Fostering Role Models
RIT's Division of Enrollment Management and Career Services says one big obstacle for reaching girls is the lack of role models working in non-traditional occupations.
"If young women do currently have role models, it's their chemistry teacher or their math teacher that may be a woman," says Nicoletti. "That's great that they are in the teaching professions, but these are traditional female occupations. These girls are not thinking that if they enjoy math then perhaps they'll be a mathematician or be an actuary, or if they like science, they may want to pursue a career in biotechnology or nuclear medicine. The women students here at RIT are reaching out to girls in elementary, middle and high schools to open their minds to the entire occupational spectrum that exists."
National Science Foundation Grants
Funded through the National Science Foundation, a multi-university research collaboration among RIT, Northeastern University, the University of Wyoming and Virginia Tech examines how the educational environment for engineers impacts female students. The study investigates the impact of experiential learning on retention rates and women's self-confidence.
RIT is also one of 11 universities to receive a prestigious Institutional Transformation Catalyst grant for $200,000 through the National Science Foundation's ADVANCE program. IT-Catalyst grants support institutional self-assessment activities focused on the recruitment, retention and promotion of female faculty in the STEM programs. The goal of the two-year study is to identify barriers that may exist in regards to rank, tenure and leadership roles for women STEM faculty. Faculty and staff from five of RIT's colleges are conducting the study.
Preparing Women for the Workforce
Cooperative education is the cornerstone of RIT's mission. Harris RF Communications, IBM and Intel are among the top 10 employers of co-ops for women in the STEM disciplines.
Employees from Harris RF Communications are generous with their time in cultivating future engineers. For example, Harris RF engineers conduct mock interviews with students from WE@RIT. The first half of the interviewing process consists of questions from the engineers to the students and the remaining portion gives students the opportunity to ask questions of the Harris mentors.
Harris' College Recruiting Department hosts regular events to meet students looking for co-ops and jobs. Students from RIT's Women in Technology organization recently got a glimpse of life inside Harris with a tour of the facility and a chance to network with employees.
"We have a longstanding and mutually beneficial relationship with RIT," says Ed Maier, vice president/general manager of engineering and operations for Harris RF Communications. "RIT's students are particularly well prepared for their entry into industry, due to RIT's excellent academics, outstanding professors and practical approach that includes the co-op program. We appreciate the university's open-minded industry outreach program, as we have a number of exciting joint initiatives under way. We are particularly excited about RIT's recent efforts to cultivate a diverse student population, especially within the engineering profession."