RIT's University Gallery to host Design Conversations lecture
Design leader came to prominence after ballot confusion post-2000 presidential election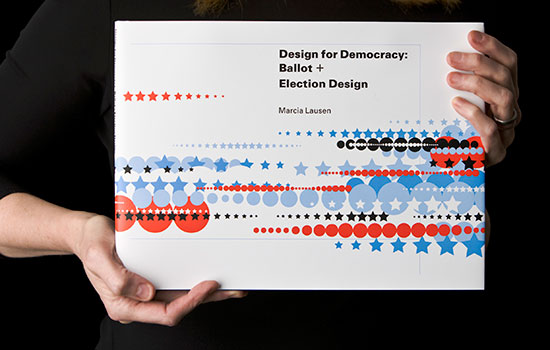 Marcia Lausen, author of the book Design for Democracy, will speak at Rochester Institute of Technology on Tuesday, Sept. 27, as part of the Vignelli Center's Design Conversations lecture series.
The free lecture is scheduled for 4:45 p.m. in University Gallery, located inside James E. Booth Hall on the RIT campus. Parking is available in lots E or F.
Lausen is a design leader who responded to the butterfly ballot confusion after the 2000 presidential election. The League of Women Voters and the AIGA, the Professional Association for Design, are collaborating on a "Get Out the Vote" initiative that grew from the Design for Democracy idea of clarity in all aspects of the election process. The organization also will have a voter registration table at the Vignelli lecture.
In November 2000, when the infamous butterfly ballot confused Florida voters during a hotly contested presidential race, the importance of well-designed ballots to a functioning democracy riveted the nation's attention. Recognizing that the nation's entire voting process—from registering to vote to following instructions at the polling place—can be confusing, Design for Democracy builds on the lessons of 2000 by presenting innovative steps for "redesigning elections in the service of citizens."
AIGA's Design for Democracy initiative began to focus on "election design" in the wake of the controversial 2000 election outcome, seeking to apply information design principles of clarity and simplicity to make voting easier and less confusing for all U.S. citizens.
Design for Democracy developed solutions for subsequent elections in Illinois (both Cook County and Chicago) and Oregon, which were detailed in Lausen's 2007 book, Design for Democracy: Ballot and Election Design (University of Chicago Press/AIGA)— as well as election design guidelines for the National Institute of Standards and Technology (NIST).
In 2005, Design for Democracy began working with the U.S. Election Assistance Commission (EAC), resulting in the establishment of national ballot and polling place design guidelines in 2007, which were distributed to 6,000 election officials across the country in 2008 and featured in The New York Times in the months leading up to the 2008 election.
Design for Democracy continues to support states and local election jurisdictions, election officials, legislators, equipment providers, printers and designers as they apply the national guidelines to local election races materials. In addition to recent work with the states of Florida, Kansas, New Jersey, New York and Ohio, AIGA Election Design Fellows are on site in Oregon and Washington.
Topics