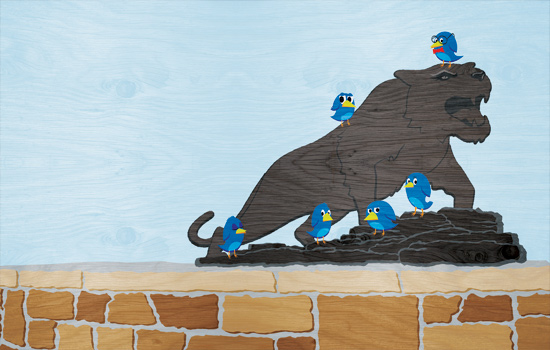 The first thing that campus visitors might notice about Emily Okey and Kevin Granger is their ability to maintain a dialogue while walking backwards—a talent they share with dozens of fellow RIT Student Ambassadors.
The orange-clad ambassadors are routinely spotted traversing the campus and pointing out highlights to prospective students and their families. Granger says advocating for the university holds great appeal.
"I definitely felt strongly about RIT as I was making my choice to come here," recalls the second-year physics major, "but the school spirit immediately snowballed."
Okey and Granger increasingly take their advocacy online. Social media is an important source of engagement among members of the RIT community, and it's also an effective means to connect with university stakeholders beyond the campus boundaries, like prospective students.
Since its creation in 2004, Facebook has grown to more than 800 million users worldwide. It is the undisputed heavyweight that dominates the social-media realm, but the mainstreaming of Facebook has arguably impacted its "cool" factor—opening the door to alternative forms of online expression.
For the student ambassadors and a growing population of RIT's social-media superusers, Twitter is that alternative. It is often described as a microblog that provides a venue for personal observations, known as "tweets," no more than 140 characters in length. Twitter users are free to select which other users they wish to follow and potentially share insights. This could even include links to photos, videos, websites or online articles.
"It got really big over the past few years," says Okey, a fourth-year graphic design major. "It's really easy to tweet about what I'm doing. I can go and take a picture. Or, if I go to some event, I find it's really easy to disseminate information quickly to a large audience."
That's why RIT has made Twitter a key element of its outreach to prospective students. Last year, the Office of Undergraduate Admissions introduced the "5 RIT Students" initiative, which relies on social-media tools to showcase its day-in-the-life perspective of the student experience on campus. Okey, whose Twitter handle is @RIT_Emily, and Granger (@RIT_Kevin) are among the 5 RIT Students founding members.
Under the supervision of Ashley Hennigan (@ashleyhenn), assistant director of undergraduate admissions, the cast produces videos that sample a range of their activities—from the classrooms to the residence halls and everywhere in between. The videos bring the student experiences to life, and social media helps put it in front of an audience. In turn, cast members find these videos drive more followers to their personal Twitter accounts.
"We have a lot of prospective students tweeting at us to say they love our videos or to follow up on a campus visit," Okey explains. "It's more real to them than talking to an account with an RIT icon."
"The whole point of the 5 RIT Students project is to make it more personal and more real," Granger continues. "Our Twitter presence reflects that."
Additional units on campus are now tapping into Twitter to enhance outreach, including most of RIT's nine colleges. Nancy Dimock, events manager in the B. Thomas Golisano College of Computing and Information Sciences, oversees her college's account. The goal, she says, is to post interesting or valuable content that followers of the Golisano College (@RITGCCIS) might be inclined to share, or retweet, within their individual networks.
"We use it to build a community and occasionally offer perks to our followers, such as free game tickets for college hockey night. As soon as I send out a tweet that tickets are available, we usually see a stream of students come to get them."
Organizers of the university's marquee events, such as Brick City Homecoming (@RIT_BrickCity) and Imagine RIT (@Imagine_RIT), use Twitter as part of their outreach strategies. So do a growing number of student groups—ranging from the Electronic Gaming Society (@egsrit) to Eight Beat Measure (@8BeatMeasure).
Greg Pollock (@But_Greg_Said), president of Student Government, calls Twitter "an interactive network like no other." He has made it a priority to encourage student leaders and university administrators to get connected.
"The neat thing about Twitter is that RIT's most active community members have an account, so more often than not we're up to date with the situation on campus," says Pollock.
Not unexpectedly, Twitter has made its way into some RIT classrooms. Hinda Mandell (@hindamandell), assistant professor of communication in the College of Liberal Arts, requires her students to maintain an active account. Classmates are encouraged to engage in dialogue with each other online, which Mandell feels has positively influenced the classroom environment.
"Students who seem to have nothing in common, who sit on opposite sides of the classroom, are all of a sudden tweeting at each other," she says.
In terms of professional development, Mandell recognizes the importance of connecting her students to a Twitter community that reaches beyond 100 million active users —many of whom serve as thought leaders within their fields. Building their online networks now will enhance career prospects when they graduate.
"You can't be a journalist without using Twitter," she explains. "If I was interviewing somebody for a job today, I couldn't in good conscience hire someone who didn't have an active account."
On location with 5 RIT Students, the cast has kept busy finishing up its second season of the video series. And, mixed in with their academic responsibilities, Okey and Granger continue their outreach to prospective students—both on campus and online. Comments that cross their Twitter feeds let each know the effort is well received.
"It's always nice to get feedback and hear it's actually working," reflects Okey, "or to have people run up to you and say, 'Oh, I've seen your tweets.' "
Adds Granger: "We live in a world where absolutely everything is networking. So the more you can reach your target audience through whatever means necessary, the better."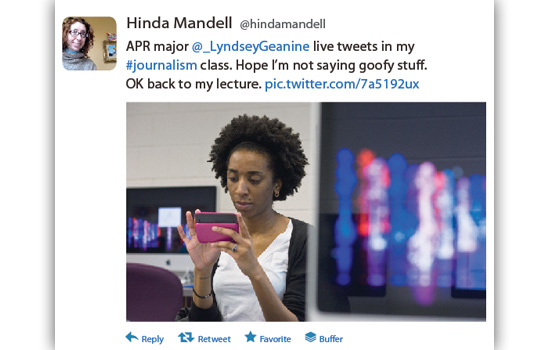 Photos by A. Sue Weisler - Illustration by Peter Bella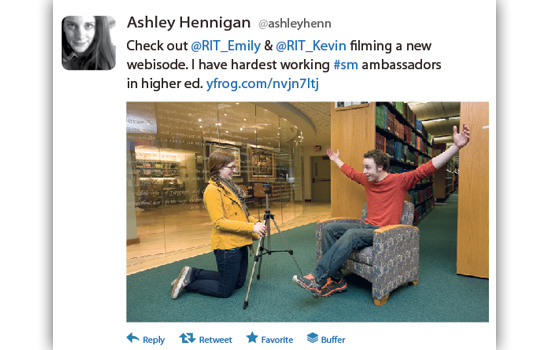 Photos by A. Sue Weisler - Illustration by Peter Bella