September 1, 2021
by Shelly Meyer
Saunders College of Business celebrates upcoming expansion and renovation with ceremonial groundbreaking
$19 million project will almost double the size of RIT's business college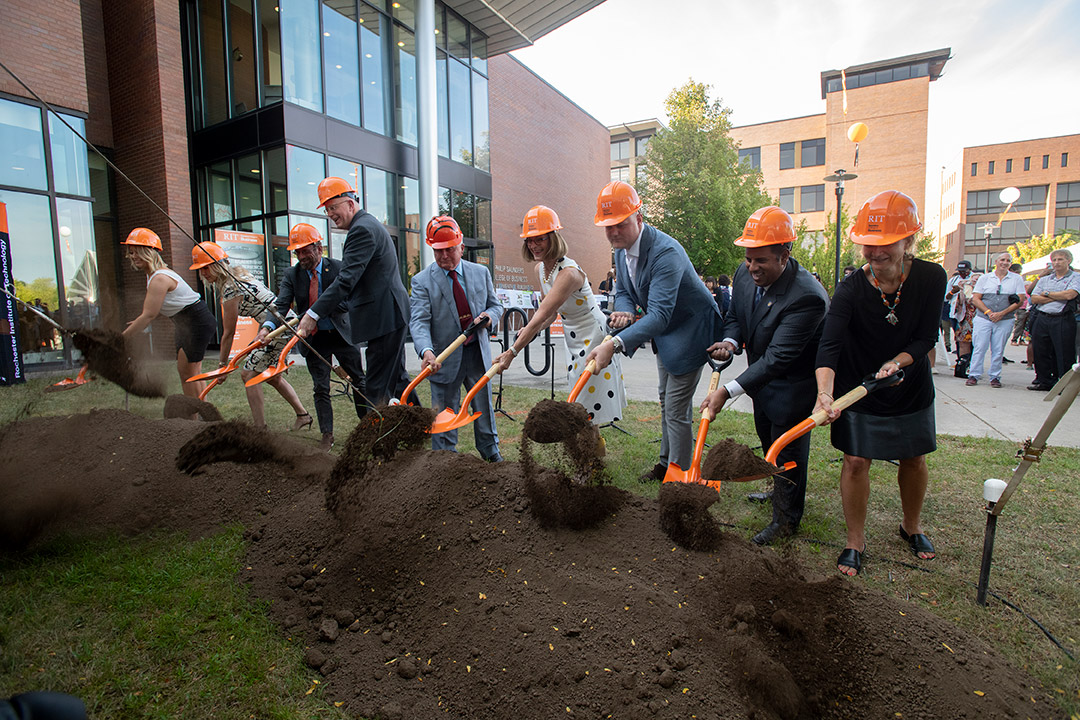 RIT's Saunders College of Business celebrated the expansion and renovation of Max Lowenthal Hall with a ceremonial groundbreaking Aug. 31.
RIT President David Munson and Saunders College Dean Jacqueline Mozrall were joined by donors E. Philip Saunders; Susan Riedman Holliday '85 (MBA); Chance Wright '18 (advertising photography), '19 (MBA); Brigitte Gueldenpfennig '81 (MBA); and Dinah Gueldenpfennig Weisberg '97 MS (software development and management), '03 (EMBA) as they ceremoniously broke ground at Max Lowenthal Hall during the college's annual welcome picnic. Klaus Gueldenpfennig '74 MS (electrical engineering), '77 (MBA) was unable to attend.
Photo gallery
Click through the top image to see more photos from the celebration.
Holliday and Weisberg are members of RIT's Board of Trustees, of which Holliday is vice chair. Saunders and Klaus Gueldenpfennig are trustees emeriti.
Collectively, these donors have committed nearly $12 million toward the expansion and renovation of Saunders College. Additional funds were awarded by New York state's Higher Education Capital Matching Grant Program.
Mozrall set the stage by highlighting the impact the expansion and renovation will have on the Saunders College students, faculty, and staff, RIT, and the region.
"As a top 100 business school, including the No. 1 ranked undergraduate business school in Western New York, this expansion will bring us to the next level," she said. "We are excited to transform the applied learning and research environment for our students, faculty, and staff. The expansion and renovations will further enhance interdisciplinary and entrepreneurial collaborations and expand our ability to engage with the Rochester community and beyond."
Munson then acknowledged the many public officials in attendance, including Monroe County Executive Adam Bello; Phyllis Wickerham, director of community affairs for New York State Sen. Pat Gallivan; Bob Duffy, president of the Greater Rochester Chamber of Commerce; Staci Henning, chief marketing officer and executive vice president of Greater Rochester Enterprise; New York State Assemblymember Harry Bronson; and New York State Sen. Jeremy Cooney, before expanding on Mozrall's thoughts.
"This expansion will allow for more interdisciplinary collaboration among Saunders and RIT students and faculty, elevating research, experiential education opportunities, and community engagement—all of which will drive creativity and innovation among the next generation of business leaders," he said. "And as the next generation, our students will follow a tradition of excellence among Saunders College graduates."
Munson then highlighted and thanked the project's lead donors.
"Your gifts will firmly position Saunders College as one of the world's premier business education and research centers, there's simply no doubt about that," he said. "And new generations of prospective students and professionals will view RIT's business programs with heightened global regard, all thanks to your support."
Speaking on behalf of the donors, Saunders addressed the crowd and thanked everyone for coming. His transformational gift of $7.5 million initiated this effort in 2019.
"This is a great day," he said. "I look forward to the future of Saunders College and to see what we can accomplish next. Thank you to the donors who are here today."
Designed by LaBella Associates, the expansion will almost double the size of RIT's business college, adding more than 35,000 square feet. The new building will feature student team rooms, applied research and case analysis labs, an event space and reception hall, state-of-the-art auditorium, a café, and outdoor spaces. Existing classrooms will also be renovated in support of innovative and student-centered pedagogy. 
Originally designed by Robert Macon, Max Lowenthal Hall was constructed in the late 1970s. The new design seeks to honor the architectural language of the existing building, while reinterpreting materials to present them in a more modern way. Take a virtual tour of the building in its current state on the Saunders College website.
Expansion of Max Lowenthal Hall will begin in spring 2022 and will be completed in time to welcome the fall class of 2023.
The gifts and grants mentioned in this story are part of Transforming RIT: The Campaign for Greatness, a $1 billion university fundraising effort, the largest in university history. This blended campaign seeks support from a variety of investors, including alumni and friends, government and corporate partners, and research foundations and agencies. The campaign has raised $816 million to date.