Saunders College honors LiDestri CEO
The Lidestri Food and Drink CEO will be honored June 28 at Oak Hill Country Club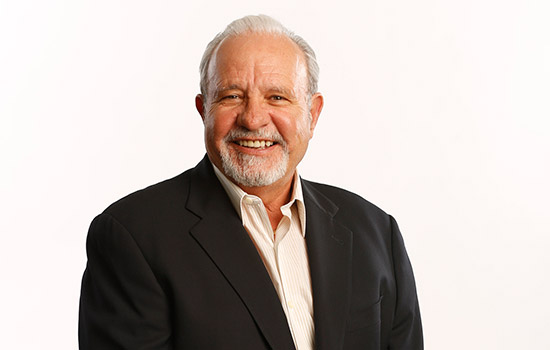 Giovanni "John" LiDestri knows his spaghetti sauce but says he can't name a favorite from his product line of famous brands that include Newman's Own and Francesco Rinaldi. Both are manufactured—along with the company's salsas, dips, spirits, juices and flavored-water drinks that lie behind some 1,500 labels—at LiDestri Food and Drink plants located on the east and west sides of Rochester, as well as in California, Pennsylvania and New Jersey.
In recognition of his business success in the local community, Saunders College of Business at Rochester Institute of Technology has named CEO LiDestri as recipient of its 2017 Herbert W. Vanden Brul Entrepreneurial Award. The entrepreneur will be honored at an invitation-only luncheon at Oak Hill Country Club on June 28.
"We are pleased to honor Giovanni LiDestri and his family-owned business which has set standards for excellence in the food and drink industry," said Saunders College Dean Jacqueline Mozrall. "Mr. LiDestri has made his mark as an entrepreneur in the food manufacturing industry. LiDestri Foods has been steadfast in its commitment to their employees and the Rochester community, while delivering high quality products to Rochester and beyond."
LiDestri says earning the Vanden Brul award honor is due to the company's hard working and loyal 1,300 employees, 900 of whom are based in Rochester. "It's not my award; it's their award."
According to LiDestri, dozens of retailers carry his household name products—from Wegmans and Tops, to Kroger, Aldi and Target. And he said his entrepreneurial style of running the fast-growing company is literally "by the seat of his pants."
"I have never liked structure and don't believe in long term business plans or lots of meetings where nothing is decided," said LiDestri. "I am too impatient; I have always liked the challenge and rush of making quick decisions—as long as you are not betting the farm. My belief is that if you don't change and move forward in new directions, you don't grow. You have to take risks and stay relevant."
LiDestri, a first-generation immigrant from Tusa, Sicily, was 16 years old when he began working in the food business as a part-time bottle washer for the Ragu Food pasta sauce facility. In 1976, he was hired as general manager of Cantisano Foods and later became president and CEO. He bought the business and changed its name in 2002 to LiDestri Food and Drink. Last year, LiDestri transitioned from the company's day-to-day operations, transferring leadership to his children, John and Stefani, who now serve as co-presidents while he remains CEO.
"Up until about 10 years ago we were a spaghetti sauce and salsa (Frito Lay) company but we realized we were becoming very commoditized," said LiDestri. "I decided we needed to completely reinvent ourselves and right now our beverage and spirits industry like Bai (antioxidant infusion drinks) promises to be big, or even bigger than our legacy division."
But it's still a fact of life that jarred sauce has become a family staple across the country at mealtime. And to meet the need, LiDestri says, "Our Lee Road plant facility in Rochester makes 180 gallons of sauce a minute. That's something grandma couldn't do. All you need to add are some meatballs and sausage to make it more personal."
The Herbert W. Vanden Brul Entrepreneurial Award was created in 1984 and is annually given to a successful individual who developed a business that improved the Rochester economy or whose innovative management skills have changed the course of an existing business.
The 2016 Vanden Brul recipient was Thomas Bonadio, CEO and managing partner of The Bonadio Group. Past winners were John Smith, IT serial entrepreneur; Ronald Ricotta and Michael Nuccitelli, co-owners of Century Mold Inc. and Parlec Inc.; Robert Morgan, CEO, Morgan Management LLC; the late Ernest J. Del Monte Sr., E. J. Del Monte Corp.; Douglas Brush and Jim Brush, Sentry Group; William K. Pollock, Optimation Technology; and Kitty Van Bortel, Van Bortel Group.
For information about the Vanden Brul Award luncheon, contact Saunders College events and promotion manager Lauren Heary at lheary@saunders.rit.edu.