Saunders program encourages high school women to explore studies, careers in business
'Women Leading Business' program hosted 85 high school women April 3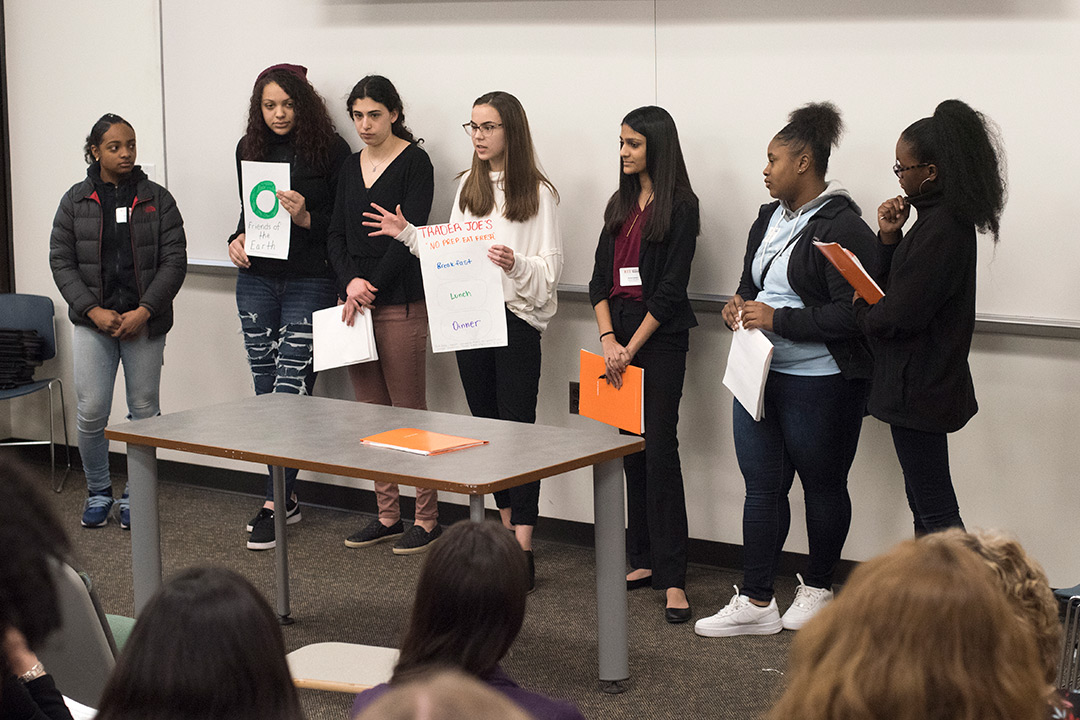 A. Sue Weisler
RIT student Chelsy Ray "pays it forward" each spring when she welcomes a new cohort of high school women to Saunders College of Business for a day of exploration, activity and networking. For the past three years, Ray, a fourth-year international business student from Fairport, N.Y., has co-led the Women Leading Business conference, an opportunity for young women interested in pursuing degrees or careers in business to get up close and personal with professional women in industry.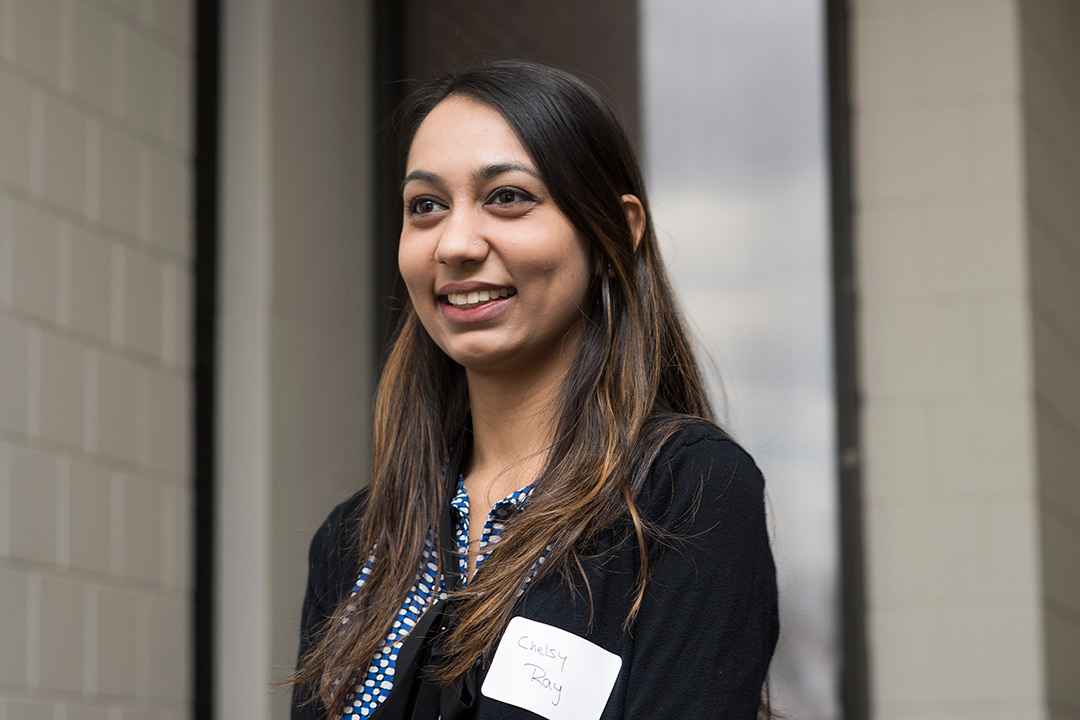 A. Sue Weisler
"When I was in high school, I always wished for opportunities to engage with college students and professionals who loved business, but there weren't opportunities like that for me," said Ray. "That's why I helped create this program three years ago. I want to give high school students, especially young women, the chance to know what it's like to study business in college, own a business or develop a cool idea."
This year, 85 high school students from eight local schools including Livonia High School, Pittsford Mendon High School, Gates Chili High School and The Young Women's College Prep Academy, started their day with Sitima Fowler, co-CEO of Capstone IT, who talked about how today's women can secure their places at the table when it comes to technology and business. Throughout the day, the high schoolers were also able to network with RIT business alumni and other professionals. Following Fowler's talk, the students met in small groups to develop a "mock" product marketing campaign that was presented to the larger group.
Jaliyah Hernandez, sophomore at Gates Chili High School, and her team came up with an idea for a new kid's meal for a popular burger chain. As part of the concept, proceeds from sales would be donated to community educational programs nationwide to prevent gun violence. The kid's meals would also be sold in recyclable bags. The group also created a fake hashtag for social media to help with the advertising campaign.
"This was my first time coming to Women Leading Business and RIT," said Hernandez. "I learned that in order to succeed, you have to take a chance and try new things and not give up."
She also asked RIT student mentors about the number of courses students generally take, whether there's a lot of homework, and the college social scene.
High school freshman Terah Eshols was most interested in learning about how to run a business, how to grab customers' attention, and how to get customers to actually buy products.
According to co-organizer Molly McGowan, a lecturer and club adviser in Saunders College of Business and director of the Saunders Leadership Fellows Program, this year's group of visitors is the largest yet.
"Women Leading Business is one of our favorite events of the academic year," said McGowan. "Not only do we have the chance to impact and shape young women at the high school level, we are able to use our student mentors and business professionals to provide them with honest feedback about higher education and careers in business. This program also gives us the unique opportunity to encourage confidence and self-esteem in these young women."
The program is sponsored by Saunders College of Business and the Women in Business student club.
Topics