SCB dedicates Philip R. Tyler Active Learning Classroom
Associate professor emeritus of marketing taught for 38 years at RIT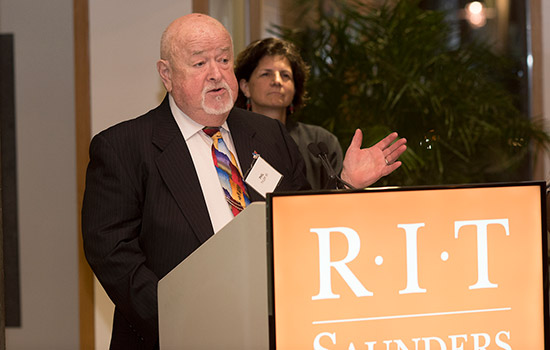 A. Sue Weisler
Saunders College of Business dedicated the new Dr. Philip R. Tyler Active Learning Classroom in honor of an associate professor emeritus of marketing who taught at Rochester Institute of Technology for 38 years.
Pittsford resident Philip Tyler '65 (business administration) was recognized in a celebration that marked the 10th anniversary of the college and its entrepreneurial namesake, Livingston County resident E. Philip Saunders. The new learning facility, located in Saunders College's Lowenthal Hall, was made possible by the generous support of alumni, friends and family of Tyler.
"It warms my heart to have this classroom dedicated in my honor because that's where I was happiest—interacting with our wonderful students," said Tyler. "To see the light behind their eyes starting to change when they repeated my personal mantra, 'I believe in me.'
"Although I was teaching marketing courses, the No. 1 objective in my classroom was giving them the confidence that they could take on great challenges—and if they worked hard at it, they could make good things happen."
Saunders College Dean Jacqueline Mozrall said Tyler touched thousands of students' lives during his teaching career.
"We offer our sincerest thanks to Phil for his dedication and passion while educating our students for close to four decades," she said. "This tribute is so well deserved and it comes from a culmination of Phil's many achievements in teaching and his impact on our alumni both personally and professionally."
Gavin Flickinger, who graduated from RIT in 2000 with a degree in marketing, said in a Facebook post tribute to Tyler that the lessons learned in Tyler's class helped him achieve success in the media industry.
"Dr. Phil Tyler's fingerprints are all over my career," said Flickinger, who works as vice president of Client Solutions at FOX Networks. "He had a profound effect on the path that I chose, and continues to, to this day. I started at RIT in the fall of 1997 after a couple of false starts in the field of higher education. I was always an average student and never excelled unless I was overtly interested in the topic.
"Fortunately for me, the first class I took at RIT was Phil's Marketing 101. His passion for marketing and expertise as a teacher inspired my interest in the field. I completed his Professional Selling course a couple of years later and this class became a spring board to my career in media sales. I recently celebrated my 14th anniversary at FOX Networks."
Tyler earned an MBA and doctorate in business administration, both with concentrations in marketing, from Michigan State University. In 1970, he joined the faculty of Saunders College of Business and remained teaching at RIT through 2008 when he retired. He is a recipient of RIT's Eisenhart Award for Outstanding Teaching and received the Distinguished Alumnus Award from Saunders College in 1983 and RIT's Outstanding Alumnus Award in 2011.
Tyler's wife of 53 years, Carol, is also an RIT alumna who graduated in 1996 with a degree in applied arts and sciences, as well as their son, Lance '90, '92 (biology, business administration), and daughter, Kristin Marano '92 (packaging science).