Smart cane helps visually impaired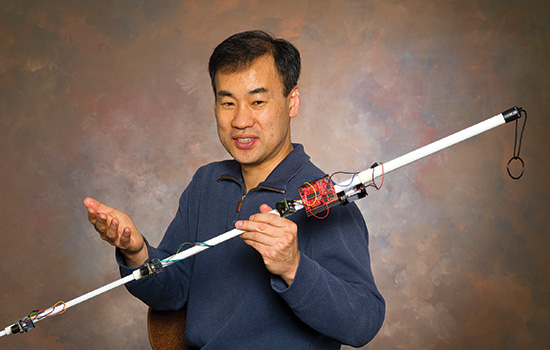 A. Sue Weisler
Imagine having to walk to class or work without being able to hear and see.

Tae (Tom) Oh, an associate 
professor of information sciences and technologies, is creating a "Smart Cane" that uses directional force vibrations to allow deaf-blind persons to easily guide themselves through their environment.

Currently, the estimated 300,000 deaf-blind people in the U.S. have no choice but to use conventional canes or service animals. Although acoustic canes with infrared rays and ultrasonic wave sensors to detect 
objects do exist, the sound feedback that they provide is of no use to someone who is blind and deaf.

The Smart Cane is different because it uses a directional force feedback rumble unit to inform and guide the user around the obstacle in real time. A sensitive tactile pad and micro­controller within the cane even allow a user to tell how far away an 
obstacle is, based on dull or sharp vibrations.

"The idea actually came from a Wii videogame that uses vibrations to simulate fishing," says Oh. "If there is an object on the left, force vibrations will guide the cane to the right and away from the obstacle."

Oh is developing the high-tech cane along with Patricia Iglesias of NTID's engineering studies department and Gary 
Behm, director of the NTID Center on Access Technology Innovation Laboratory, based upon a patent developed by Behm when he was a senior project engineer at IBM. The project is in 
collaboration with the Helen Keller International Organization and the 
NTID Center on Access Technology.

The team plans to create a mobile app that adds to the cane's capabilities in the future. Using the app, users can calibrate the sensitivity of the cane's vibrations and geo-track the cane's path, which is helpful when locating someone who may be lost.

"The ultimate goal is to simply indicate the destination in your smart phone and allow the cane to guide you to your 
destination," says Oh.
Topics