Soccer captain shooting for championship
Student Spotlight Kiana Richards, fourth-year packaging science student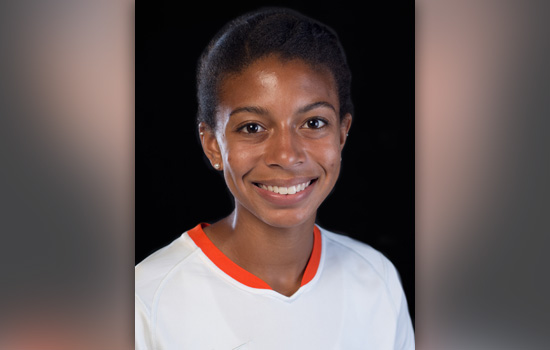 Kiana Richards, a fourth-year packaging science student, is a captain of the women's soccer team and president of the Student Athlete Advisory Committee. Between classes and soccer, the Columbia, Md., native is also a member of the RIT Institute of Packaging Professionals. The Tigers (3-1-2) take on the University of Rochester Yellowjackets (3-2-1) at 4:30 p.m. Sept. 20 at Sahlen's Stadium in Rochester for the third annual Hillside Community Shield, a fundraiser aimed at supporting the youth and families served by Hillside Family of Agenices.
Question: What brought you to RIT?
Answer: The two main things were the co-op program and soccer. It certainly wasn't the weather!
Q: Why did you choose to major in packaging science?
A: I came into college as an undeclared engineering major but decided on packaging science. I love it because almost everything needs packaging and there's always improvements that can be made.
Q: How did you get involved with the RIT soccer program?
A: I've played soccer since I was little and always knew I wanted to pursue my career in college. I was recruited to play here in high school and as my top choice for school, I knew this was the right place for me.
Q: What is your role on the team?
A: As a captain this year, I've taken on a greater leadership role. It's all about being selfless, motivating and leading the team to success.
Q: What are you looking forward to most this season?
A: I'm excited to see us succeed with all the hard work and effort we've put in. My goal is to end this year with a championship.
Q: What is your favorite aspect of the game?
A: I love the team aspect of the game. We've formed a really cohesive unit and that's key to being successful with our style of play.
Q: Do you have a favorite place on campus?
A: I'd have to say the Tiger Stadium. Nothing beats stepping out onto that field on game day.
Q: What are you most excited for about graduation?
A: Getting to work in a field that I love. I learned on my co-op at Mondelez International this past spring that packaging science is the right major for me.
Q: What have been some of your best memories from your time at RIT?
A: Some of my greatest memories here have come from soccer and spending time with friends. One in particular is my sophomore year when we made the national tournament for the first time in school history. The overwhelming feeling of excitement and pride is something I'll never forget.
Q: Are you nervous about anything as you transition away from college life?
A: Change is always a challenge for me but I think there is a lot we can learn about ourselves through transition.
Derrick Hunt compiles "Student Spotlights" for University News. Contact him at djh9758@rit.edu with suggestions.