State gives $12M to Golisano Institute
Senate, Assembly delegations secure dollars for planning/design and construction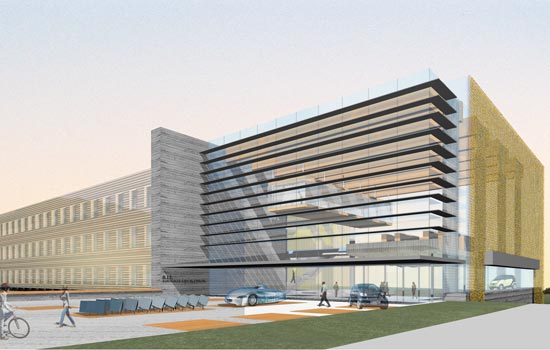 Stantec Inc.
The 2008-2009 New York state budget includes two significant new investments in RIT's Golisano Institute for Sustainability that will enable the university to initiate planning, design and a phased construction time line for a major new facility on campus.
Funding secured by the Rochester state legislative delegation will support the development of a state-of-the-art "green" facility, which will be one of the first stand-alone centers dedicated to research and education in the field of sustainability. The building will be designed as a living laboratory housing research facilities, offices and classrooms, while also serving as a model demonstration of sustainable principles in all aspects of its design, operation and programming.
It will be the home of one of the world's first Ph.D. programs in sustainability and the first to focus on issues related to sustainable production. The Golisano Institute received a $10 million grant from the New York State Senate, which will be used toward building construction costs.
"As we strive to stimulate the upstate economy, our best partners continue to be schools and universities like RIT," says Sen. James Alesi, chairman of the Senate Committee on Commerce, Economic Development and Small Business and member of the Senate Committee on Higher Education.
"In this instance, the Golisano Institute will accelerate education not only in the Greater Rochester area and upstate New York, but in fact, globally." Adds Sen. Joseph Robach: "The Golisano Institute for Sustainability will not only add to the academic landscape of Rochester but will generate outside economic development and career opportunities. I was proud to work with my Senate colleagues and President Destler to deliver this vital capital project to the greater Rochester area."
RIT President Bill Destler is appreciative of the state funding. "We are honored to have this extraordinary support from our State Senate delegation for this effort, and we thank them most sincerely for their confidence in RIT and the mission and purpose of the institute," he says.
Nabil Nasr, assistant provost and director of the Golisano Institute for Sustainability, states: "This funding will significantly accelerate our ability to advance our program plans and further strengthen our outreach to business, industry and other organizations that are engaged in issues related to sustainable production. There is no doubt that this resource will be a critical economic driver for our region that will yield magnificent returns for the region and for the State as a whole."
With continued development of the Golisano Institute, RIT will seek to become the first technology university to provide a full spectrum of career-focused, integrated and interdisciplinary programs that embody the principles of sustainability in product development.
"Through strategic investment today, we are building a strong foundation that will culminate in our region being at the forefront of the cutting edge research being done in alternative energy," notes Sen. Michael Nozzolio. Adds Sen. George Maziarz, "New ideas and new solutions will be much closer with this key infusion of state resources, and few institutions are better positioned to make a difference in our economy and on our planet than RIT."
The New York State Assembly announced $2 million in funding to support the planning and design of the new facility. "This important commitment of state funding will enable us to take the next critical step toward achieving the vision of the Golisano Institute for Sustainability, not only for RIT but for the Greater Rochester region," says RIT President Bill Destler. "We are extremely grateful to the members of our Rochester-area delegation and to the leadership of the Assembly for this investment in RIT."
RIT hopes to begin construction on the first phase of the $50 million facility within the next 12 to 18 months. "The Golisano Institute will play a leading role in the effort to develop a new model for tomorrow's economy, one in which critical job creation, environmental conservation and prudent energy policies will be achieved in tandem," notes Assemblyman Joseph Morelle.
Adds Assemblymember Susan John, "This center will not only bring the world new research and development opportunities in sustainability, it will also create 140 jobs during the construction phase and has the potential of generating $650 million in economic development and thousands of permanent jobs."
The Golisano Institute for Sustainability was formed in 2007 following a $10 million gift from entrepreneur B. Thomas Golisano. The institute focuses on research and education in sustainable production, environmental policy, sustainable business development and alternative energy, building on more than a decade of applied research by RIT's Center for Integrated Manufacturing Studies.
"RIT has earned a reputation as a world leader in sustainable development and production and has helped the Rochester/Finger Lakes region stake our claim as a leader in the trend toward a green economy," says Assemblyman David Koon. The institute's doctoral program in sustainability anticipates admitting students by this fall.
"The development of this facility is the next step towards providing cutting-edge programs that instill the core concepts of sustainability in our next generation of engineers, scientists, business leaders and policy makers," adds Nabil Nasr, director of the Golisano Institute.