Storybook app helps deaf children learn language
Interactive storybook app developed at Gallaudet University soon available on Android tablets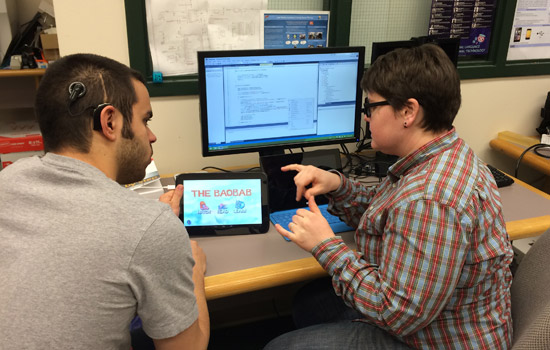 Shared reading for deaf or hard-of-hearing children just became more accessible and entertaining with the development of an Android version by Rochester Institute of Technology's Center for Access Technology at the National Technical Institute for the Deaf through a collaboration with Gallaudet University's Visual Language and Visual Learning (VL2).
The project is led by VL2, a Science of Learning Center funded by the National Science Foundation at Gallaudet in Washington, D.C. As part of the collaboration, NTID's CAT Lab was asked to develop an Android version with the goal of reaching a larger audience who use Android tablets.
"The Baobab" is the first of a series of American Sign Language/English bilingual storybook applications for iPads and Adroid tablets. Led by an all-deaf team, it is a children's story about a curious girl who goes on an adventure. Parents may read the story to their young children, and they together can watch the story with a professional deaf storyteller.
Children can learn vocabulary through the 170-word index highlighted within the story. When those words are tapped, videos show the word being signed and fingerspelled.
The CAT and Gallaudet teams will demonstrate the app at the Imagine RIT: Innovation + Creativity Festival on May 3. Visitors to their exhibit in the Gordon Field House can view and follow the story on iPads and Android tablets. Yiqiao Wang, the artist for "The Baobab," and artist-in-residence for VL2 at Gallaudet, will sign postcards, hand out stickers and chat with visitors.
"The Baobab" can be downloaded for $4.99 on iTunes.
NTID faculty members Gary Behm and Brian Trager headed the porting project, using help from RIT/NTID students Kelley Duran, who received her master's degree in software engineering in December, and Chris Santoro, an information technology major from Holbrook, N.Y.
The application helps parents read to deaf children who rely more on visual cues. Studies on bilingualism and visual learning show that learning two languages leads to greater literacy skills in both languages, and the younger the child, the better.
"Learning bilingually is not limited to text. This app includes ASL storytelling," Behm said. "And this can benefit anyone, not just deaf children."
"We are thrilled to work with the CAT team, as this opens further opportunities for new deaf programers, and it's great that more deaf people can access the storybook apps," said Melissa Malzkuhn, digital innovation and media strategies manager for VL2, who led the app development.
Parents can also learn from the app. Most deaf children have hearing parents, so parents are usually new to sign language and visual learning for their children. "This storybook app is a fantastic resource, not just for the child to learn sign language, but also for the parent to learn sign language," Malzkuhn said. "It creates an opportunity for parents to connect with their child through ASL."