Student-athlete fluidly moves from team to team—while keeping a keen eye on her personal and professional goals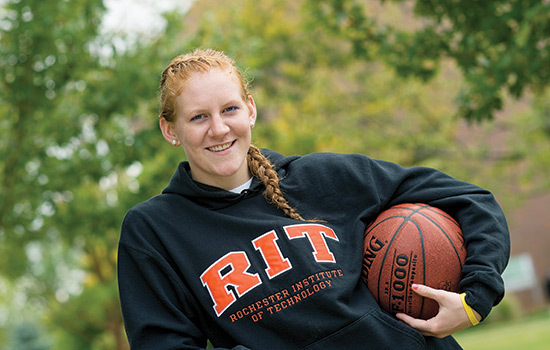 A. Sue Weisler
Sharon Dennis is someone you want on your team. She is hardworking, determined and loyal, with an intense competitive streak that makes everyone around 
her work harder to keep up. 

Dennis' work ethic is visible on the 
basketball court, where she rose to rookie stardom last year as a center. The first-year student from Liverpool, N.Y., was named the 2009 Empire 8 Rookie of the Year as well as the East Region Division 3 Rookie of the Year.

"Sharon is one of two captains this year—in my five years of coaching I have never elected a sophomore to be a captain," says Amy Reed, head women's basketball coach. "Sharon shows maturity beyond her years both on the court and off the court. Her teammates respect her and look up to her."

Most rookies, barring injury, would follow a splashy debut with three more years of impressive play. Dennis is doing things differently; she will follow her debut with her finale. She is, at heart, a basketball player and also a dedicated student in RIT's physician assistant program. Dennis knew she would have to leave the athletics program behind to focus on the grueling third and fourth years of the academic program, a time reserved for studying medicine and beginning rotations in hospitals and clinics.

"I love basketball—I'm a very competitive person—but at the end of the day, I'm not going to play in the WNBA; I came here to be a physician assistant," says Dennis. "That's what's most important."

For now, Dennis still has a game to play and is thrilled the season is finally underway. Exhausting early morning practices will keep Dennis and her teammates focused throughout the long season, which stretches into February.

"I'm really excited because we have a lot of freshmen and people coming back. We have experience now. I feel like we're going to win a lot more games this year." 

RIT President Bill Destler has praised RIT's student-athletes, noting that they carry higher grade point averages than the rest of the student body. In fact, the 647 athletes held a cumulative grade point average of 3.16 in 2008-2009, higher than the general student population. Dennis had a 3.7 grade point average last year, the best on the basketball team.

Dennis' love for basketball has never eclipsed her commitment to academics, a priority she learned from her parents. She attributes the academic success of student-athletes to a mastery of time management.

"I think student-athletes are better at managing time because we have to," Dennis says. "Once I got to college, I found out that I really had to schedule almost everything in my life. I actually found myself scheduling homework time as well as a nap here and there." 

Dennis also schedules one weekend each month and holidays to work as a phlebotomist at St. Joseph's Hospital Health Care Center in Syracuse, a condition she agreed to when offered the position during the summer. She describes the phlebotomy lab as "tight-knit," and a place where everyone works together. Dennis' co-workers let her practice on them and were quick to offer help during her first few weeks.

"Drawing blood is a very precise procedure with little room for error," Dennis says. "If I make a mistake on the court, I can always make it up somewhere else. If you make a mistake with a needle in someone's vein, the consequences can be serious and the patient will be in pain." 

Dennis takes her commitments seriously from her moves on the basketball court to her studies in the physician assistant program to the hospital where she is experiencing a hands-on education in health care.