Student dedicated to changing energy landscape
Brandon Hudson leads incubator company that increases HVAC efficiency using web-based systems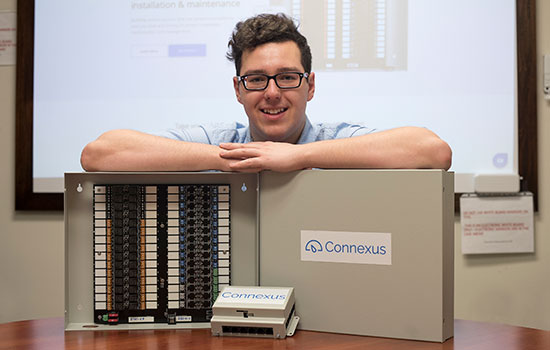 Rochester Institute of Technology student Brandon Hudson was already a young entrepreneur when he was asked to build a web-based thermostat for a new energy-solutions business. Three years later, the fourth-year applied arts and sciences major from Buffalo, N.Y., is CEO of Connexus, a heating and cooling control and monitoring company that offers a suite of products designed to simplify the installation of any HVAC system and create unique whole-home solutions. The company offers an Internet of Things (IoT) platform for HVAC contractors that streamlines installation, maintenance and management for customers—while reducing costs, time and energy consumption.
Connexus, a member of RIT's Venture Creations technology business incubator, targets the HVAC needs of larger homes, smaller commercial buildings and structures with multiple heating zones or complex mechanical rooms.
According to founders, Connexus is the first to the market and is completely modifiable after installation. The system also alleviates current industry problems including high engineering costs, lack of comprehensive controls and poor system performance, among others. Hudson says it also reduces the end-cost and gives contractors never-before-seen access to HVAC systems.
"The heating and cooling space is really divided," said Hudson. "There are higher-end systems that are fully automated. The need comes in the middle space where we are able to provide a powerful platform that scales across building size, standardizes the whole install process and enables it on your phone. We are able to program all of our components so that they work well together. More importantly, we are meeting the needs of our customers and our product is reliable."
The product is targeted to contractors because of their deep understanding of HVAC and supports a model of real-time tuning and maximizing equipment efficiency. And Hudson says that the goal is to offer a platform where consumers have the right "tools" and are allowed to take control of them using their smart-phone applications. For customers concerned about aesthetics, the company's products support "hidden" thermostat sensors that blend into walls.
No stranger to running a company, Hudson began his entrepreneurial ventures as a first-year RIT student with his business Click, a watchband adapter for Apple Watch. Today, Hudson's parents operate Click so he can focus on his studies at RIT and Connexus.
"It was pure serendipity that I became a member of the Connexus team," he said. "I saw it as a great opportunity and there is a big need in the market for our product."
As the company looks ahead to the next five years, Hudson says they will continue to study collected data that will enable them to increase efficiency and allow the system to diagnose issues before they even occur. Part of their strategy is assisting contractors and giving them actionable insight into the system, which others don't currently have because of the high cost of monitoring.
"If a boiler breaks, there is flooding and you call someone to fix it. We're trying to reverse that," explains Hudson. "An early-alert system warns the contractor that a problem is brewing and he or she alerts the homeowner. This changes the dynamic of the space. We are trying to turn emergencies into simple sales calls."
The Connexus team includes Chuck Russo, HVAC engineering; RIT alumnus Eric Schumann, hardware engineering; Bill Cosselmon, mechanical engineering; and John Bisgrove, sales.
"I spend a lot of time in basements," added Hudson. "I've designed much of the software—about a million and a half lines of code across the entire system. All of this has been created by not thinking inside the box. There has been an industry standard for heating and cooling, and we're re-inventing that standard. I predict that creative energy solutions will be part of the next industrial revolution."