Student enters game into Intel Showcase at GDC
His game, 'Gibraltar,' is featured at GDC '17 in San Francisco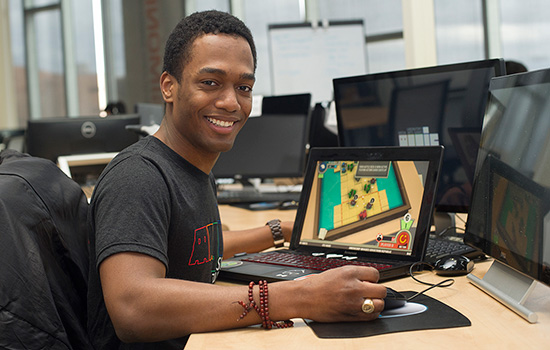 From the age of 12, John Miller knew that he wanted to design video games. In fact, he set a goal for himself to become a professional game developer by the time he turned 13. Although he missed that self-imposed deadline, Miller, a third-year game design and development student from St. Louis, persisted and this week at the 2017 Game Developers Conference in San Francisco, he will debut Gibraltar in front of students and faculty from the nation's top gaming schools at the highly anticipated Intel University Games Showcase.
Miller began developing Gibraltar during his senior year in high school after years of drawing characters and worlds on paper and teaching himself basic programming and game design using books given to him by his parents. On Thursday, March 2, all eyes will be on Miller and Gibraltar—a fast-paced, territory-focused, turn-based tactics game—RIT's sole representative at the showcase.
"It's an honor to have Gibraltar entered into the Intel University Games Showcase at GDC," said Miller. "It's cool when other people validate the work you've done. It makes you feel good about the product, and yourself, because you've put so much into it."
Over the summer, Miller was accepted into the Co-Up program at RIT's Center for Media, Arts, Games, Interaction and Creativity (MAGIC), which in partnership with the Simone Center for Student Innovation and Entrepreneurship, offers students the opportunity to earn cooperative education experience and a stipend, work alongside faculty and staff mentors, and gain valuable business advice—all while developing digital products fit for the marketplace. The 10-week program is made possible through financial support from members of the RIT Board of Trustees. The program allowed Miller to refine the user interface for the game, which he says helped Gibraltar seem more like a commercial product than a student project.
"When I look at my early artwork, I say to myself, 'What was I thinking?' But then I take a step back and realize how much I have grown. It's been a lot of work, and I've had some disappointments along the way. But it's absolutely been worth all of the time and effort that I've put into it."
Steven Maier, a lecturer in the B. Thomas Golisano College of Computing and Information Sciences, is one of Miller's mentors and encouraged him to submit Gibraltar to Microsoft's annual Imagine Cup student competition in 2016. The game was recognized as a national finalist in that competition.
"John is one of those students who can stand out on his own and is not afraid of doing hard work on his assignments or personal projects," said Maier. "Gibraltar is a great example of John's abilities and work ethic. I loved working with John to help prepare him for the Microsoft Imagine Cup competition and got him in contact with the winners from the year before who were also from RIT. This year, John has been instrumental in helping other teams prepare for their turn at the Imagine Cup competition and he is always willing to share his experiences and knowledge with others."
Jennifer Hinton, chief communications officer at RIT's MAGIC Spell Studios, helps identify the best and brightest students to represent the university at GDC and is excited that Miller is part of the traveling team.
"John is a tremendous asset to both the MAGIC Center and the game design and development program," she said. "His work ethic and talent are impressive and he is a terrific example of the caliber of students that we can offer to game development companies. Students who have the opportunity to participate in GDC walk away with a sense of pride and accomplishment and a clearer view of what their future in this industry might look like."
This is Miller's first time at GDC, and while he plans to thoroughly savor every moment of the high-octane environment, he realizes the invaluable opportunities lay in front of him. His goal is to one day run his own game development company and the connections he hopes to make with industry professionals at GDC may open doors for him.
"I'm most looking forward to networking at GDC and meeting all kinds of people," added Miller. "It will be amazing to talk with people who have been in the gaming industry for a long time and are just as passionate about this as I am and absolutely love what they do. I believe this experience will be career changing."
Video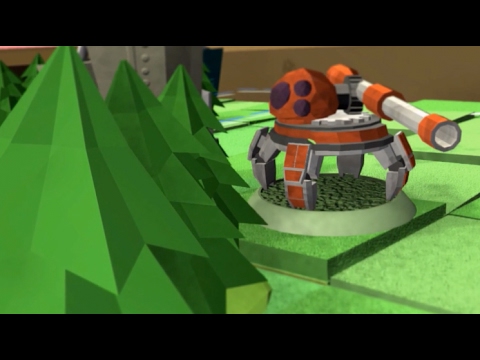 Topics