Student groups organize event to educate campus on better ways to manage trash
Trash and recycling 'mountains' will offer a visible lesson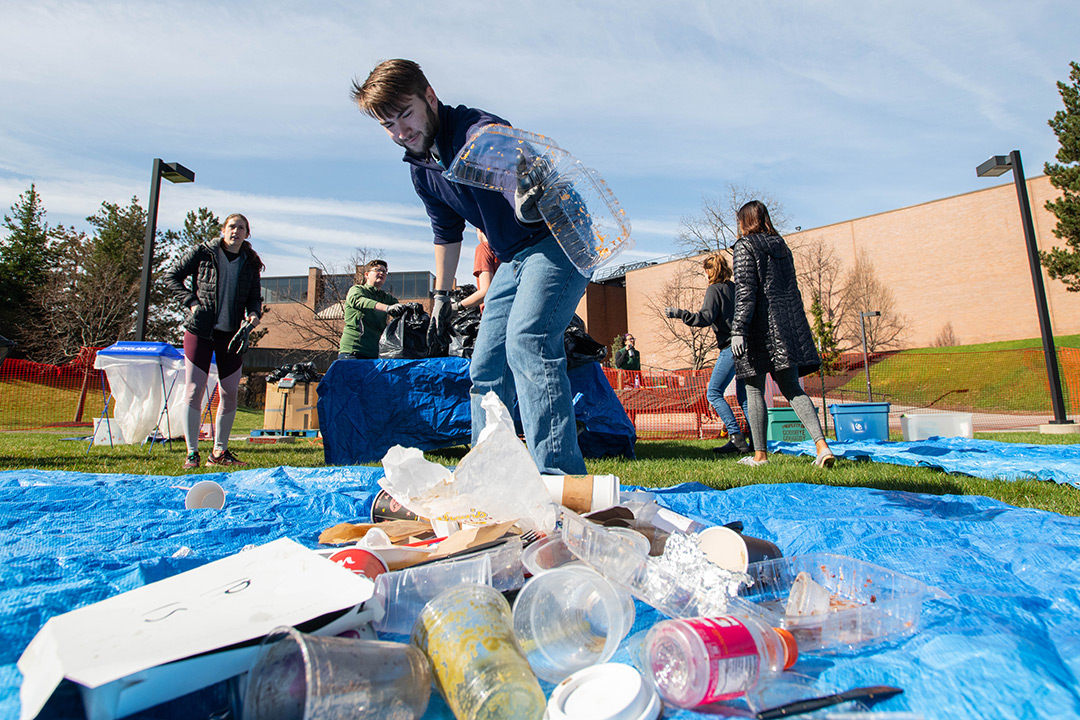 Gabrielle Plucknette-DeVito
Two RIT student organizations are getting an early start on Earth Week with an event designed to educate the campus community on everyone's role in creating a sustainable environment.
Engineers for a Sustainable World and RIT Student Government are partnering today on a Waste Awareness Campaign that involves displaying a day's worth of trash collected from around the campus. One site will hold a pile of recycling, the other a pile of what goes to the landfill.
"The event will be a blatant visual of the amount of waste on campus," said Keira Higgins, a fifth-year mechanical engineering student from Milford, N.Y., who is with Engineers for a Sustainable World. "We want to help students realize the extent to which our campus community wastes, while providing ways they can be more mindful and take action to get involved."
The recycling mountain will be staged at Fountain Park behind Carey Hall, while the landfill mountain will be on green space next to the Gordon Field House. Throughout the day, students will be sorting the items into smaller piles to reveal the amount of recycling, contaminated recycling and actual trash. 
"This has never been done before at RIT, and I think it will offer our campus community some valuable information as well as generate some discussion on how to make the campus more sustainable," said Enid Cardinal, RIT senior sustainability advisor.
Liam Megraw, student government Sustainability Committee Chair, said they will also be creating a video to document the event. During Earth Week, the two groups will provide additional information and opportunities for students to get involved in reducing waste on campus.