Student health coaches link patients, physicians
RIT students train as health coaches, gain experience in community healthcare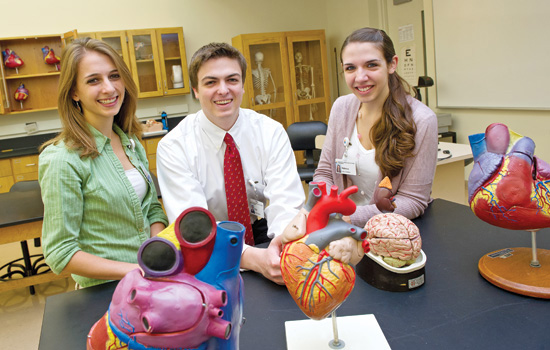 Rochester Institute of Technology has partnered with Rochester Regional Health System and the Greater Rochester Independent Practice Association, a physician organization, to improve the health of chronically ill patients in the Rochester community.
RIT students considering healthcare careers are participating in a program designed to help frail patients continue to live in their homes. As health coaches, students remind patients to take their medicine, exercise and eat nutritiously. They also listen to their clients' concerns and questions, which in turn helps the coaches identify potential issues that might require additional medical care.
"These are the health professionals of the future," said Rochester Regional's Senior Vice President for Clinical Innovation Dr. Bridgette Wiefling. "Their experiences today, working with patients in their homes and communities, will help prepare these students to meet the demands and expectations of the new healthcare paradigm and the focus on keeping people healthy, in their homes, and out of the hospital."
"The health coaching program benefits everyone involved," said Dr. Daniel Ornt, RIT vice president and dean of the Institute and College of Health Sciences and Technology. "The program educates RIT students in the complexity of care management and gives them invaluable self-awareness regarding their potential role in one of the many healthcare professional positions of the future. The program highlights the strength of the RIT and Rochester Regional alliance."
More than a dozen students are working as health coaches today and have had positive experiences.
"Most of the time I'm there to be a friend and to make sure they're doing OK," said Talia McKay, a third-year biomedical student at RIT from Windham, Maine. "The main goal is to keep them well and help them address their concerns."
"Chronically ill patients—those who have diabetes, high blood pressure or Chronic Obstructive Pulmonary Disease, for example—have very unique healthcare needs," said Dr. Eric Bieber, president and CEO of Rochester Regional Health System. "Our goal in creating this program was to create a model of care that will enable these frail patients to stay in their own homes, near family and friends, and out of the hospital except when it's absolutely necessary. These student coaches help us identify issues early so patients can avoid unnecessary hospitalizations and doctor appointments."
Before visiting patients, students must complete the required seminar class, Community Health Care from Theory to Practice, developed in conjunction with Rochester Regional Health System. The class is offered during the fall semester and home visits begin during the spring term.
"The rapport students build in the field will be valuable for both patients and health-care providers," said Jeremiah Kirkland, adjunct professor in RIT's College of Health Sciences and Technology and project manager for Rochester Regional Clinical Innovation. Health coaches relay information about their patients' home environment, nutrition and health needs during weekly debriefings with the health care team. "We tell students they are the eyes and ears of the care team," Kirkland added. "They are not clinicians. They don't prescribe medicine or diagnose. They build a relationship with the patient and look at the home environment and help us determine our care plan."
About the RIT and Rochester Regional Alliance:
The partnership between Rochester Institute of Technology and Rochester Regional Health System, established in 2008, created the Institute of Health Sciences and Technology to provide a framework for collaborative research, outreach and academics. In 2011, RIT opened the College of Health Sciences and Technology to fulfill the third objective, focusing on education related to wellness and progressive, preventive approaches to maintaining and enhancing the population's health. RIT, in fall 2015, expects to open the Clinical Health Sciences Center, a 45,000-square-foot facility that will house the Wegmans School of Health and Nutrition, physician assistant and diagnostic medical sonography programs, forensic clinical psychology research, the Center for Applied Psychophysiology and Self-regulation, and a primary care clinic operated by the Rochester Regional Health Systems.
About GRIPA: Greater Rochester Independent Practice Association, a long-standing physician organization, is leading the way in nine counties in accountable care programs that focus on improving patient experience and outcomes. GRIPA uses an advanced data repository and information technology system to identify and target high-risk patients in need of extra care.