Student hosting gaming gathering
Student Spotlight Xuan Tran, third-year applied networking and systems administration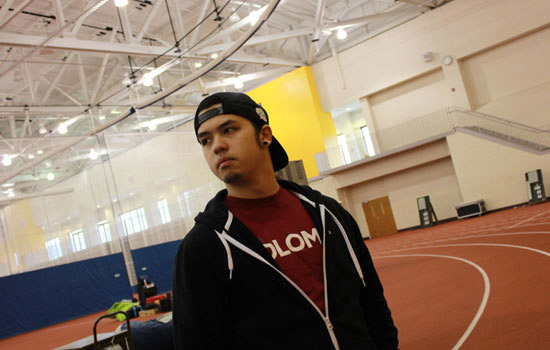 Approximately 250 people and their computers will be packed into the Clark Gym this weekend for Fall Frag Fest. Hosted by the Electronic Gaming Society, the event will provide a venue for tournaments in some of today's most popular multiplayer video games. Organizing this event, which is called a LAN party because attendees connect their computers over a local area network, is third-year applied networking and systems administration major Xuan Tran, president of EGS. Fall Frag Fest will run from 10 a.m. Oct. 13 to 3 p.m. Oct. 14.
Question: Where are you from?
Answer: Syracuse, N.Y.
Q: What brought you to RIT?
A: A random, lucky grant that was started my senior year of high school called Say Yes. It's a program that pays for one year of tuition at any SUNY school and four years of tuition at some private schools, RIT being one of them. I tried to get into the game design program, but got into IT instead. I then realized that I can't program and switched to ANSA (applied networking and systems administration).
Q: In your opinion, what is the most interesting or unique thing about yourself?
A: I always hate this question because I never know what to say. I'll state some random facts and let the readers decide. I have two tattoos—the "Spectre" symbol from Mass Effect and the button combination of the "Song of Time" from The Legend of Zelda: Ocarina of Time. My favorite game is Final Fantasy X. The Scout is my favorite Team Fortress 2 class. I really enjoy cooking. My first co-op was at Cisco. I know people who know random celebrities including Dan Lilker, from the band Anthrax, and Rivington, who works at video game company Riot Games.
Q: What organizations are you a part of at RIT?
A: The only club I'm involved with at the moment is the Electronic Gaming Society. Being president takes a huge commitment and I wouldn't have time to be in other clubs.
Q: What is Fall Frag Fest?
A: Fall Frag Fest is our fall quarter BYOC (Bring Your Own Computer) LAN party. It is historically set up to provide room for 250 people. The event runs for 29 hours, starting Saturday morning and going to Sunday afternoon. We do open gaming of a large range of games with Team Fortress 2, StarScraft II and League of Legends being some of the most popular ones. In addition to open gaming, we run tournaments that attendees can enter to compete with each other for prizes. Since not everyone can be a gaming master, we have other ways of giving away prizes including raffles that everyone is entered into, random out-of-game events like MSPaint tournaments, dance contests, and we might even hand out random things to random people, because why not?
Q: How did you get involved with it and what is your role?
A: I got involved with EGS during my freshman year in the fall quarter. I didn't have many gamer friends back in Syracuse, because most of my childhood friends grew up to be jocks. While having my jock friends was cool, I always wanted to have friends that liked to play video games. When I heard about EGS, I immediately wanted to get involved. I ended up befriending the E-board and the next year I was treasurer, the year after that I was vice president, and now I'm president.
Q: What has been your favorite RIT moment?
A: I'm going to say the LAN parties. I've had my hand in the past nine of them, which is one each quarter since my freshman year not including the upcoming one. I take great pride in my involvement. Most people don't realize how much work actually goes into making these events successful. We are all incredibly drained from it and we start working on the next LAN party almost immediately.
Q: Is there anything that you would like the RIT community to know about Fall Frag Fest?
A: If I could say one thing to the RIT community, I would tell them to go to Fall Frag Fest. It's "tons o' fun" and you get to laugh, play, yell and win cool stuff. It is a pretty good way to blow off steam after this long week of midterms.
Q: What advice would you give to other students?
A: While gaming is great, remember that school is extremely important. I've spent my fair share of all-nighters playing League of Legends, but remember to play in moderation and study, study, study. Also, make sure you get out of your rooms and meet new people. College is about learning and making connections to help you succeed in life. Don't waste the opportunity spending all of your time basked in the dim glow of your monitors.
Q: What are your plans after graduation?
A: I'm not entirely sure what I'm doing at this moment. I would like to work in the networking field, preferably working with customers. I'm not an incredibly picky person though, so we'll see.
Matt Gregory compiles "Student Spotlights" for University News. Contact him at msg2110@rit.edu with suggestions.