Student leader chosen to introduce Andrew Young
Student Spotlight Bernard Rodgers, third-year communication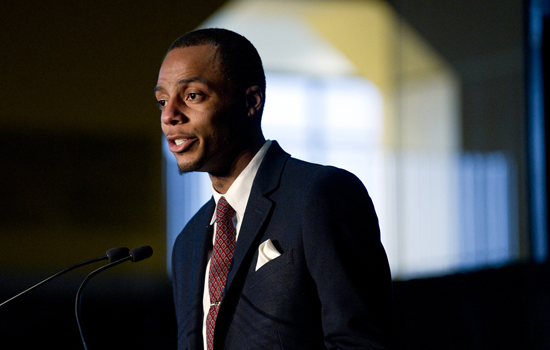 A. Sue Weisler
Bernard Rodgers, lead student assistant for the Multicultural Center for Academic Success, introduced Andrew Young, keynote speaker for the Expression of King's Legacy event, on Thursday. The Rochester native is a Men of Color, Honor and Ambition (MOCHA) alumnus and started Brothers of MOCHA, a support program for first-year students at RIT. He also is a Rochester City Scholar.
Question: What brought you to RIT?
Answer: I decided to come to RIT because in high school I was involved with bringing restorative practices like creating a community and repairing harm to Rochester City schools. Someone who was very active with the practices was Dr. Johnson and she inspired me to consider coming to RIT. I initially met her when I was in ninth grade and she saw something special in me. We kept in contact over the years and I toured the campus and fell in love with it.
Q: Why did you choose to major in communication?
A: I initially set out to major in business management. I always loved business but before the start of my freshman year I attended the Summer Bridge program run by the Multicultural Center for Academic Success and met some wonderful people who helped guide me toward what I really wanted to do. They made me realize that I really wanted to go after something that I love, which is to be a talk show host. That's what led me to the communication discipline.
Q: How did you get involved with the Expression of King's Legacy event?
A: The leader of the MOCHA program, Kevin McDonald, and the Multicultural Center for Academic Success staff met to discuss several student candidates to introduce the keynote speaker, Andrew Young, and selected me.
Q: What did the opportunity mean to you?
A: I felt very honored to introduce Andrew Young. When I think about the fact that he is someone who worked so closely with Dr. King and fought for many of the things that King fought for, I think it's amazing. King has always been somebody who I looked up to. Growing up I wanted to resemble many of the attributes that he's shown, whether it be standing for what you believe in or caring for others. All of these are things I try to live by.
Q: What is the Brothers of MOCHA program?
A: To give back for all the support I have received in my life, I helped kick off a resource brotherhood group for freshman students to provide guidance. This fall we took on nine men of color and host monthly meet ups. We have speakers come in to talk to them about academic excellence, community service and professional development. We also do restorative circles where we talk about the students' concerns, fears or things they want to get out of the program. We really try to create a safe support group where they can come to talk and ask questions.
Q: What are some of your favorite memories at RIT?
A: All of the good people I have come in contact with is something I will never forget. There are so many genuine and insightful people who are willing to share their wealth of knowledge and that's priceless.
Q: What are your future plans?
A: After graduation, I'm really interested in moving to D.C. and pursuing a job in the marketing field.
Traci Turner compiles "Student Spotlight" for University News. Contact her at trt6538@rit.edu with suggestions.