Student Life Center opens for RIT community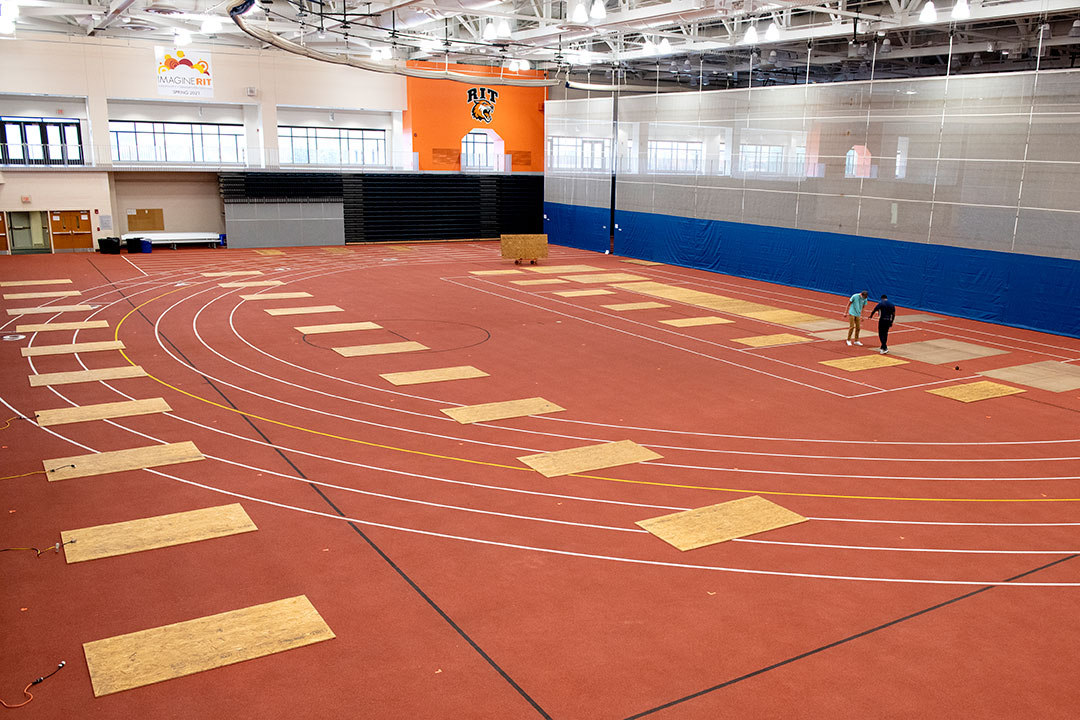 A. Sue Weisler
RIT's Student Life Center opens Monday for students, faculty, and staff hoping to keep fit now that colder weather is settling in. It will be open from 6 a.m. to 8:30 p.m. weekdays, and noon to 4 p.m. on weekends.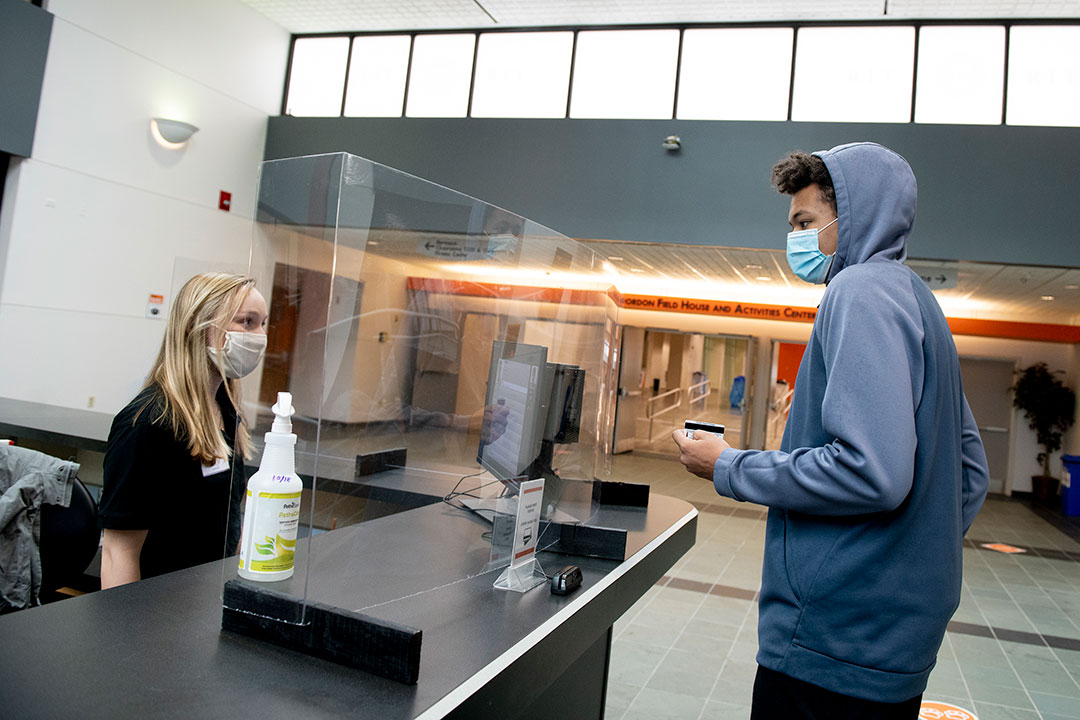 A. Sue Weisler
The Wiedman Fitness Center is being moved to a larger space in the west section of the Gordon Field House. The popular fitness pods that had been in place on the outdoor track since August have been closed, but the fitness equipment found in the pods, as well as more cardio and weight machines, is now available inside.
"We have a pretty broad selection of equipment including treadmills, bikes, and elliptical machines, as well as a selection of free weights, benches, dumbbells, and some machinery," said David Stevens, director of RIT's Center for Recreational Sports.
"We've gotten a lot of positive feedback regarding our outdoor pods—there have been more than 3,500 uses by more than 600 different students, plus faculty and staff," Stevens said. "But students wanted a little more variety. They've been asking when our indoor facility would be open. People want to get indoors, but there still is a bit of leeriness for people wanting it to be safe. I feel good about this, and feel that we can do this safely."
The center will be open on a first-come, first-served basis and will be limited to 25 people during RIT's current yellow COVID-19 Alert Level. Up to 50 people will be allowed when RIT returns to a green level.
Also opening are indoor studio space and basketball courts for groups involved in wellness classes, intramurals, and student clubs and organizations. Most of these groups had to practice outdoors this semester.
"Everything will be on a restrictive basis, with masks worn at all times, and the proper amount of distance from others observed," Stevens said. The only times when masks don't need to be worn are in the showers and in the pool.
There will be no shared equipment, or contact or competitive sports.
"We're following all state guidelines regarding sports and recreation and fitness facilities," Stevens said.
The equipment cage will remain closed; visitors should bring their own towels and locks.
Also remaining closed for now are the field house track, boxing room, spa, and racquetball courts.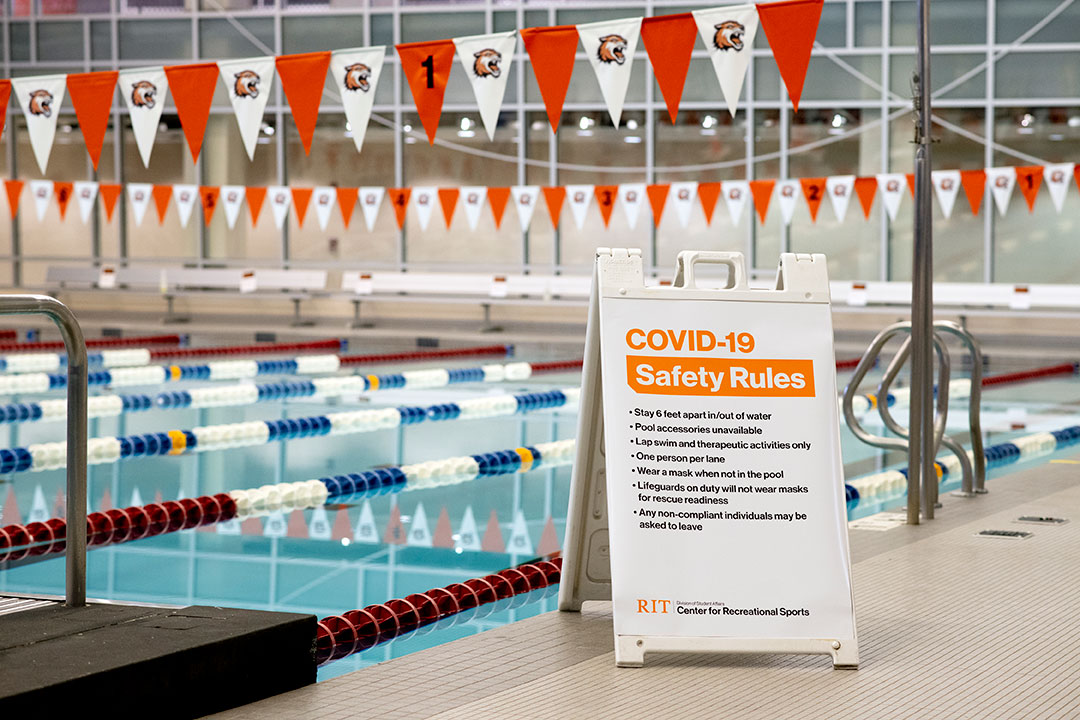 A. Sue Weisler
A list of policies will be posted throughout the building, and Stevens said it is important visitors follow the rules.
The aquatics center remains open for personal exercise, lap swim, wellness classes, and varsity swimming and diving practice.
"With enrollment in wellness classes and club sports, we know the facilities will be used quite a bit," Stevens said. About 1,000 students are involved in club sports and intramurals, and more are enrolled in wellness classes.
Visitors will be asked to wipe down all of the equipment they use with provided wipes when they are done. Students as well as custodians will also be cleaning throughout the day.
Stevens said the SLC is expected to remain open for the duration of the semester, and some student programming may be offered over the winter break. More weekend hours may be added in the spring semester.
He said officials from the Monroe County Health Department have given the permission to open.