Student wins fellowship from the American Society for Microbiology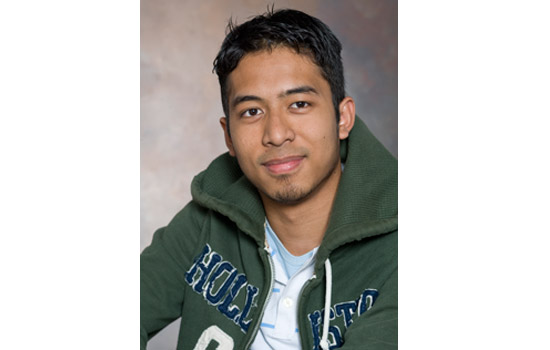 A. Sue Weisler
RIT undergraduate Ahmad Azmeer Mior recently won an American Society for Microbiology Undergraduate Research Fellowship.
Mior is a fourth-year student majoring in biotechnology. An international student from Kuala Kangsar, Malaysia, Mior will graduate in the spring.
The competitive undergraduate fellowship is awarded to students like Mior who are interested in pursuing graduate careers in microbiology. Award recipients receive up to a $4,000 stipend, a two-year student membership to the society and reimbursement for travel expenses to the 111th American Society for Microbiology General Meeting.
Mior's research involves the identification of a gene involved in production of a quorum-sensing signal from an unknown endophyte isolated from grape vine xylem fluid.
"In the research lab, I love to deal with new biological samples or experiments everyday," Mior says. "It is also exciting to try different kinds of methods, both traditional and modern techniques, to obtain the reproducible data.
"Every now and then, it can be devastating when things don't turn out the way they are supposed to in the lab, even after many trials of doing the same experiment," he continues. "Nonetheless, that aspect makes science research appealing."
Mior has worked closely in the lab with his mentor, Michael Savka, associate professor of biological and medical sciences, who encouraged him to apply for the fellowship.
"Mior is a hard-working undergraduate student who has garnered national recognition," Savka says. "He has used biosensor bioassays to identify a bacterium isolate that produces cell-to-cell communication signals and DNA sequence analysis to classify the bacterium as a Methylobacterium species."