Students of the Future: RIT's Critical Thinking initiative contributes to skilled leaders of the future
University takes holistic approach to enriching education and individuals as problem-solvers, innovators and leaders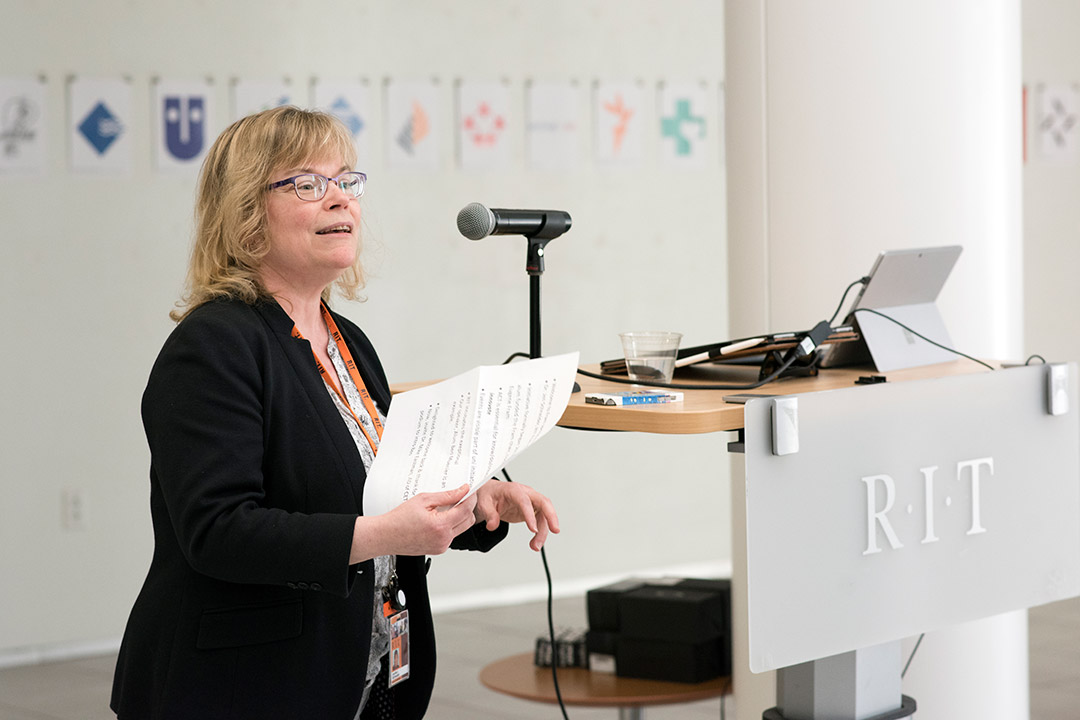 A. Sue Weisler
More than 30 faculty and staff from 12 colleges across the country in the Association of Independent Technological Universities met this past August at the AITU Summit: Advancing Student Thinking for 21st Century Success. Organized and led by RIT, participants from universities such Case Western Reserve and Carnegie Mellon discussed how critical thinking is essential in today's complex society.
Trends in higher education today call for graduating students with depth in technical and engineering skills infused with the ability to think critically about how technology is used to positively impact society. RIT provides many opportunities for its students to attain these inter-connected qualities, and the Eugene H. Fram Applied Critical Thinking initiative is one way this inclusive educational philosophy is being implemented.
Jennifer Schneider, the Eugene H. Fram Chair in Applied Critical Thinking at RIT, spoke about the summit's broader focus on critical thinking and its role in supporting student success and retention efforts as well as professional and personal success. She also shared information about how this initiative is being implemented at RIT.
Question: What was the AITU Summit's focus and who participated?
Answer: This was a different kind of event, truly a summit that brought together many AITU colleges and faculty. We built a network of technological universities that would come together to strategize and share how we teach critical thinking for the next generation of 'experts' in technology. Specifically, we examined the application of critical thinking for problem-solving, innovation and leadership.
What will be added to RIT's focus in this area of critical thinking?
We are spending a lot of time teaching students the broader applications of critical thinking for professionalism, for citizenship, for leadership—all these are externally focused. We also have an opportunity to take the concept of critical thinking and use it to help students integrate it for their personal growth. Applied critical thinking is effective thinking in any context.
Why is this necessary?
Our world is ever more challenging and needs critical thinkers more than ever. We intentionally focus our energy on building students' ability to apply their thinking beyond problem-solving to understanding the context, and being more effective for creating solutions that benefit society and the self. Just knowing things is not enough; our world demands that you think critically to be a positive force in this complex world we live in.
What does the student/leader of the future look like?
A darn good, critical thinker that is nimble, creative, adaptable, innovative and a leader—of themselves and within society. We are broadening what it means to be a good engineer or a good scientist, for example. This thinking and approach is essential to making individuals better citizens and leaders.
Who is involved on campus and where will the group be heading this academic year?
Critical thinking really is integrated at RIT. We put the summit together to benchmark and share best practices and institutional strategies to understand where we are on this idea of 'what kind of thinkers are we creating'? Are they prepared for the future?
At RIT, we are formalizing how we thread critical thinking throughout the entire student experience. There are three RIT-representative advisory boards to help lead experiences and curricula development: Campus -specific (consisting of representatives from all colleges and divisions); an international group (representing international our campuses); and an external board with alumni.
NOTE: The Association of Independent Technological Universities (AITU) is an organization of private, American technological universities collaborating and fostering excellence in science and engineering education. The 21 universities in the organization span the U.S. Members of the group met recently for the first AITU Critical Thinking Summit to further refine the skill sets necessary for new graduates, and to begin developing action plans to develop student critical thinking for problem-solving, innovation and leadership.