Students make a difference during spring break
Dozens of students worked on community projects in Costa Rica, Texas and Florida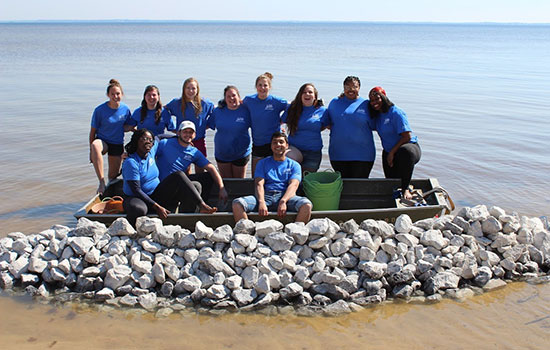 Like many college students, Ma'kiah Holliday spent part of her spring break on a Florida beach.
But instead of relaxing in the sand, she and 10 other Rochester Institute of Technology students spread buckets of limestone rocks along the Gulf of Mexico in Florida's panhandle to help prevent shoreline erosion.
"I love to help people," said Holliday, a third-year psychology major from Liberty Township, Ohio. "Why not be productive during my break? Being able to help people is very powerful to me."
Her group also spent time at the E.O. Wilson Biophilia Center in East Freeport, Fla., which promotes animal conservation through educational, hands-on experience for young children. They spread gravel in driveways, planted items around animal enclosures and removed netting on the main building and replaced it with sticks.
"We cut it, painted it, waited for it to dry and put it up," Holliday said. "They've been wanting to do it for so long."
RIT students have participated in Alternative Spring Break community projects for more than 10 years, said Kerry Foxx, director of RIT's Center for Leadership & Civic Affairs, which helped organize the trips for more than 30 students this year. The students paid for their air fare and this year slept in churches, camps and at a local resident's farm.
"Alternative Spring Break is a learning opportunity for us," Foxx said. "It's a chance to teach students how they can have an impact on different countries around the world and to get to interact with people from those communities. It fits in with RIT's mission to create global citizens."
Two other Alternative Spring Break destinations were also visited by RIT students.
Jenn Palmer, a fifth-year industrial engineering major from Madison, Conn., was one of 12 RIT students to travel to Costa Rica, where they worked in the small community of Gandoca.
The remote community of about 260 residents—about a 5½-hour bus ride from the airport in San José—worked on a small communal farm, where they planted pineapples and plantains and harvested yucca. They also visited a school, where they taught children some words in English and American Sign Language, Palmer said.
And the group also spent time on the beach, clearing debris so protected sea turtles wouldn't be impeded when they came out of the water to lay their eggs.
 "I liked learning about different cultures and seeing how we can help them, even from afar, by doing things like reducing the plastic that we use," Palmer said.
And Meghan O'Neil, a third-year biochemistry major from Danville, N.H., was one of 11 RIT students who spent their spring break in Beaumont, Texas, helping clean up following Hurricane Harvey last August. Flooding in some areas reached six feet, and the resulting mold has left many homes uninhabitable.
"We went to an older woman's house that was pretty much gutted and took her ceiling down for her. Her husband was bedridden and they were living in a trailer in their front yard. She didn't have a lot of family who could help. She was so thankful for us," O'Neil said.
The group also cleared debris from yards and ditches.
"There was broken glass and mirrors everywhere," O'Neil said. "It felt like we accomplished something. It felt good that we were able to be productive and help people who were in need."