Students pitch marketing plan to Macy's executives
Team will present their ideas to company executives in New York City this week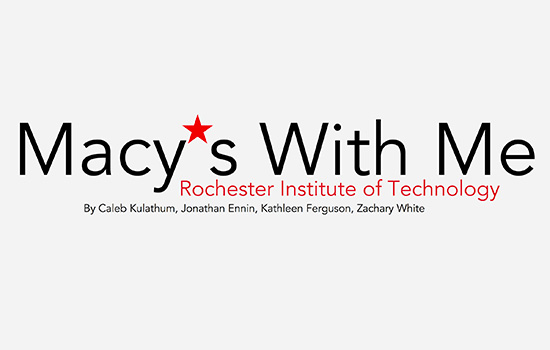 Four Saunders College of Business students at Rochester Institute of Technology created a "pillar of exclusivity" marketing plan that would make the Macy's department store shopping experience more exclusive and luxurious to current and new customers.
The team earned first place for RIT in the Macy's Undergraduate Marketing Challenge 2017—winning Apple watches and an all-expense-paid trip to New York City to present their ideas to company executives on April 12.
The participants are all students from Saunders College: Caleb Kulathum, undeclared business major from Harleysville, Pa.; Zachary White, management information systems and new media marketing from Dansville, N.Y.; Kathleen Ferguson, finance and international business from Dansville, N.Y., and Jonathan Ennin, management information systems from Sunnyvale, Texas.
The Macy's Challenge is restricted to 15 teams per school, and RIT is one of six participating colleges that include University of California-Berkeley, University of Pennsylvania, University of Wisconsin-Madison, University of Arizona and George Washington University.
"This is the second year in a row that our Saunders students have placed in the Macy's Marketing Challenge," said Saunders College Dean Jaqueline Mozrall. "Being part of the millennial generation, they clearly have strong social media skills, including mobile and browser experience, that can influence the online purchasing power for stores like Macy's."
The Saunders College team chose "Experience" as the pillar for their "Macy's With Me" campaign. "We felt that Macy's had to compete in experience before it competed in prices, shipping or anything else," said Kulathum. "In this age where Macy's is competing with traditional stores, e-commerce sites and discount retailers, they need to stand out and provide something unique that will grow.
"This has all been a tremendous opportunity and our team is extremely happy at the opportunity to present a marketing campaign with such high brand appeal and exposure," said Kulathum.