Students showcase assistive technology projects
Both upcycling projects for ABVI will be featured at 2017 Imagine RIT Festival on May 6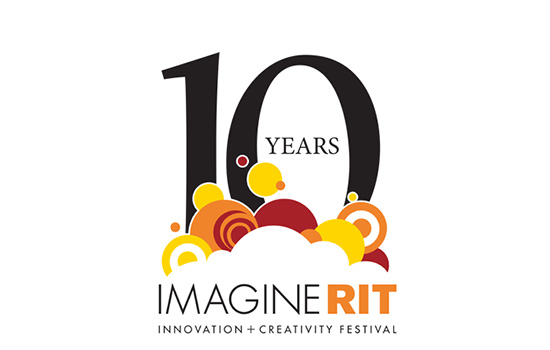 Waste not. Upcycle instead.
Two teams of RIT engineering students have found "endless possibilities" for second-hand clothing—from insulation and wall dividers to chairs and desks—through two upcycling projects in their senior design classes.
Both teams are finalists in a student design competition that will be featured during the Create Symposium taking place April 26 at the New York State Legislature in Albany. Create—Cultivating Resources for Employment with Assistive Technology—is sponsored by New York State Industries for the Disabled, a consortium of rehabilitation agencies across the state. The same teams will also display their creations at the 2017 Imagine RIT: Innovation and Creativity Festival on May 6.
Through the Create Symposium design competition, collegiate teams develop prototypes of assistive technologies—either devices or new business applications—to help improve livelihoods of New Yorkers with disabilities. Working throughout the semester with the Association for the Blind and Visually Impaired (ABVI), a local nonprofit organization, RIT engineering students coordinated two upcycling projects using second-hand clothing. They developed several prototypes for new products using the re-worked materials and production plans for business opportunities based on the new products.
Upcycling is the process of taking excess materials and revamping them as new products. It extends the life of the material but also reduces waste and provides opportunities for producing new products, even starting, or expanding, a business.
ABVI's Goodwill Industries sells second-hand clothing, furniture and housewares at stores in the region. Many garments received cannot be sold and the company was looking for an alternative to selling the excess materials for rags. Across the U.S., more than 400 million tons of material from donated goods are disposed of during the year by companies. Projects like the two taking place at RIT are intended to help companies like ABVI decrease the volume discarded and also provide workplace opportunities for its clients.
Working with the two teams in the Kate Gleason College of Engineering, they have a prototype of upcycled of cotton garments for thermal and/or acoustic insulation. The team tested product effectiveness and prepared a process plan to manufacture the new insulation.
"This product could be used in homes and businesses, really anywhere you see fiberglass insulation, it works as an environmentally conscience alternative," said Mitchell Goepel, a fifth-year mechanical engineering major from West Seneca, N.Y. He and his team investigated making the insulation from acquired shredded cotton material, coated it in a fire retardant, and then applied an adhesive to achieve the desired shape.
A second project involved a similar model but using synthetic materials for products as varied as collaborative wall dividers, a moveable Lego seat and a flexible chair and desk.
"There is a growing number of students with interests in sustainable products and systems, as well as access technology. Projects like the ones we've done with ABVI provide students the opportunity to apply engineering principles to product development in areas that interest them," said Beth DeBartolo, director of the multidisciplinary senior design program in the engineering college.
"Working in multidisciplinary teams, with support from experienced faculty guides, the students take their projects from needs assessment through prototyping and testing," said DeBartolo. "In addition to a functional prototype, clients like ABVI are also looking for an appealing design and a business case for the new product. So now our engineering students are collaborating with business and industrial design. Projects like these give students the experience of being on a team similar to one they would encounter in the workplace."
Project sponsors are the Kate Gleason College of Engineering, the Association for the Blind and Visually Impaired, Create and AutoDesk.
Both projects will be featured during Imagine RIT: Innovation and Creativity Festival on May 6. Both teams will be available throughout the day in Erdle Commons, located on the first floor of the Kate Gleason College of Engineering.
Topics