Students showcase innovation at Maker Faire Dubai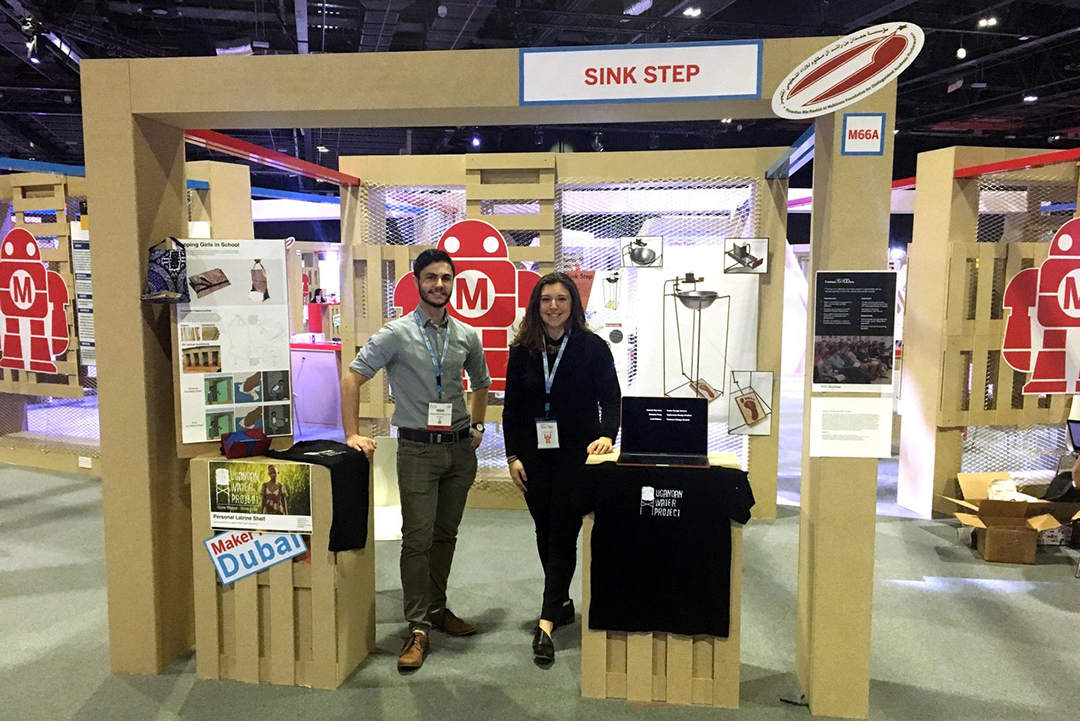 Innovative student projects that address hygiene issues in rural Uganda were showcased internationally earlier this semester when two RIT industrial design BFA students attended the 2019 Maker Faire Dubai.
Frank Barletta and Hannah Giancola presented group projects created during the program's annual T-Minus 151 workshop at Dubai's Maker Faire — a global network of events celebrating innovation, creativity and curiosity, hallmarks of RIT's College of Art and Design.
The students were sponsored by RIT Dubai to exhibit work completed for this year's iteration of the weeklong design blitz that tasks students with completing a sponsored project. 
The T-Minus 2019 partner was the Ugandan Water Project. In January, 48 student teams each developed a design solution for the non-profit organization working to provide water, sanitation and hygiene resources to communities in Uganda.
After being contacted by RIT Dubai about sponsoring projects for the Maker Faire, industrial design faculty chose T-Minus projects "Portable Latrine Shelf" and "SinkStep" to represent the program. As the fourth-year students for those teams, Barletta and Giancola were selected to travel to Dubai and present at the festival.
"We can't emphasize enough how much this opportunity has influenced our worldly views on design and culture," Barletta and Giancola said. "We hope that more experiences like this present themselves for future students."
About the projects
Portable Latrine Shelf
Team members: Barletta, William Key, Megan Kosman and Cal Miller
"Young girls in Uganda, Africa, struggle to maintain proper menstrual hygiene because of negative stigmas, lack of facilities and a lack of accessible health products. As a result, many girls do not attend school once menstruation begins. 
Our team's solution for this problem is simple and focuses on personal hygiene, discretion and improving the usage of current facilities for maintaining proper health at schools. Our design is a portable, wallet-sized carrying pouch for feminine hygiene products that can unfold into a shelf. This shelf can be hung up in latrines by girls using a simple nail on the wall, and then taken down, folded and taken with them when they're finished."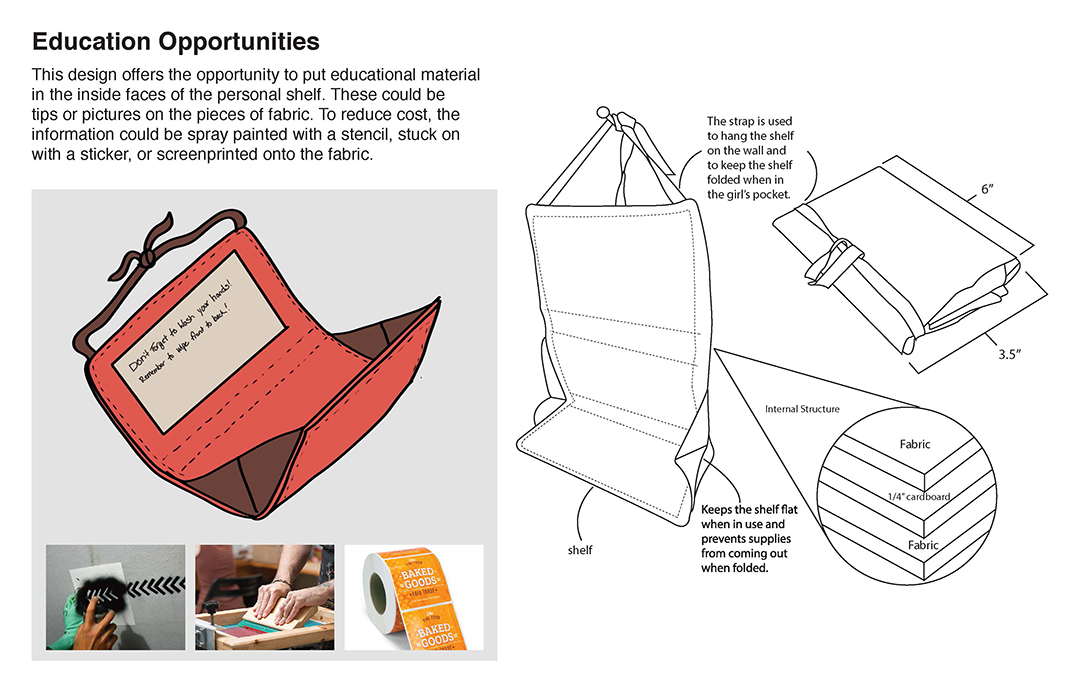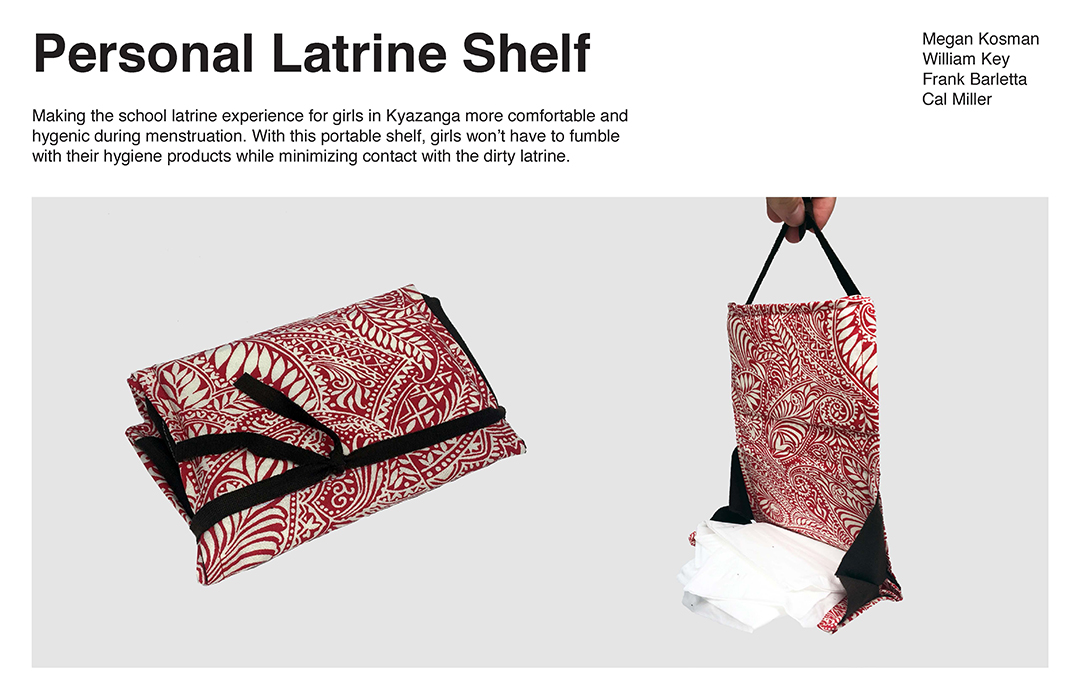 SinkStep
Team members: Giancola, Brandon Fong, Ariel Meltser
"SinkStep was created in response to the issue of hand-washing and hygiene in rural Ugandan medical clinics. One of the main concerns in these clinics is contamination due to a lack of clean water to wash hands. Because it is not standard procedure, many physicians and clinicians don't know to wash their hands with soap and clean water before meeting with patients, thus leading to higher mortality rates and spread of disease. 
We aimed to create a simple, two-step "sink" to intuitively encourage hand-washing. We used the numbers one and two to indicate the process order of soap-before-water and simple graphics to represent actuation points. 
By using their foot to open the sink valve, doctors will not need to touch the dirty tap to turn water on or off. The addition of a spring brings the valve back to the closed position when they release their step. 
The SinkStep was designed using materials available in rural Uganda. We used the existing water jug stands as a model for what materials are widely available and accepted. The structure of our "sink" is made with rebar. 
The simple mechanics of the machine offer an understanding of how the system works as well as a clear visualization if repairs were ever needed. We hammered a metal basin, similar to what the clinics currently have, to ensure no pooling of water at the bottom and connected a hose leaving the basin to aid in disposal of contaminated water. 
Our second actuation point was making the soap dispenser part of the hand-washing experience. By using the already existing bars of hand soap manufactured in Uganda, we were able to create a dispenser built specifically for bar soap. A simple grater tool is used to make common bar soap easier to dispense and add to a higher hygienic standard. 
We believe that by creating a tool to implement regular hand-washing in clinics, we have the ability to raise the rate of clean and successful surgeries, deliveries and medical procedures in rural Uganda."