Students urged to volunteer for Hunger Project
Three hours of time will help prepare 20,000 meals to the community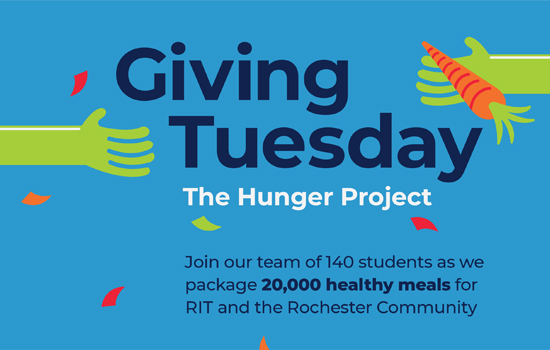 Rochester Institute of Technology students are encouraged to volunteer to prepare 20,000 healthy meals for the community during the Giving Tuesday Hunger Project, from noon to 3 p.m., Nov. 28 in the Gordon Field House.
Giving Tuesday, traditionally held on the Tuesday following Black Friday, encourages people to volunteer and give back to their community. RIT's Center for Leadership & Civic Engagement has selected Feeding Children Everywhere, a Florida-based organization, to help bring healthy meals to those in need.
Once packaged, 2,000 meals will be donated to RIT's FoodShare program, directly benefiting members of the RIT community. The additional 18,000 meals will be donated to Foodlink in Rochester.
"We've done several events where we packed food for those in need, but the Hunger Project is about to take things to a whole new level," said Robert Moakley, RIT's vice president of Student Government. "When I found out the amount of meals we would be packaging and donating, I couldn't believe what we were about to do for the Rochester community. I am so happy that we have such an incredible number of students willing to take time and give back to those not as privileged."
About 150 students are needed to help package the boxed meals.
Music will be booming as the students prepare the packaged meals of red lentil jambalaya, which includes lentils, white rice, dehydrated vegetables and pink Himalayan salt.
"We're hoping this will become an annual RIT tradition and part of the culture on the RIT campus," said Kathryn Cilano, civic engagement coordinator for RIT's Center for Leadership & Civic Engagement.
RIT students interested in volunteering should register at http://cglink.me/r337494.