September 10, 2014
by Marcia Morphy
Students win Digital Rochester achievement award
MobiMed was a collaborative effort created through RIT/RRHS Idea Lab program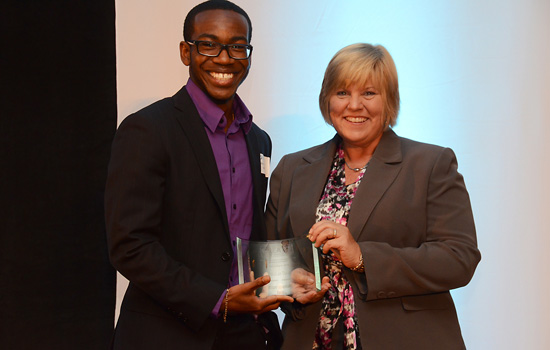 Rochester Institute of Technology students Kevin Lewis '14 (management information systems) and Melika Alipour Leili '14 (industrial design) received the Student Achievement Award in Digital Rochester's GREAT Awards 2014 on Tuesday for their mobile centrifuge project. The award category was sponsored by The Democrat and Chronicle Media Group.
According to Lewis, who hails from Brooklyn, N.Y., and Leili, from Tehran, Iran, MobiMed is a blood transport container system with a regulated temperature for transporting life materials to and from hospitals. The system allows phlebotomists to process and refrigerate blood samples in the car—which reduces blood degradation rate to zero percent.
"Five percent of blood samples in home draw services degrade before they get to the lab for testing," explained Leili. "It drives inaccurate test results, which brings mental distress for patients and results in money loss for the hospital."
MobiMed was one of the first projects piloted in fall 2013 in IdeaLab@RIT, sponsored by RIT's Albert J. Simone Center for Student Innovation and Entrepreneurship—where teams of students brainstormed to solve medical-related problems faced by Rochester Regional Health System.
"The intent of IdeaLab is to solve problems in an interdisciplinary way for our strategic alliance partner, in this case RRHS, by bringing together technology, design, and business to solve difficult problems, and then with the support of the sponsor and the desire of the student to actually realize them," said Richard DeMartino, endowed chair of the Simone Center and associate professor in RIT's Saunders College of Business. "MobiMed was a collaborative effort resulting in a winning situation: The students learned a great deal, Rochester Regional Health System solved a unique blood transportation problem, and a potential new business is going to be created."
Lewis said the award was a sign of accomplishment and showed that RIT and the Rochester community supported the project in coming to fruition. "As students, we got bogged down in the daily activities of focusing on our academic performance and working on MobiMed, but we never stopped to realize how much we were actually impacting the lives of the people who would benefit from this project."
Lewis and Leili also had the opportunity to jumpstart their business in the 2014 Saunders Summer Startup program, a joint entrepreneurial initiative between the Simone Center and Saunders College where students work full time on their businesses over the summer. The small business launchpad offers a stipend, working space in RIT's Venture Creations and support from RIT faculty, assigned mentors and community business leaders.
Topics