Summertime, and the students were busy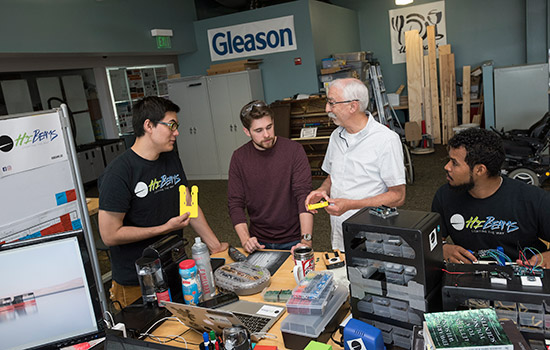 A. Sue Weisler
While summer is traditionally a slow time on campus, RIT students used the break to develop ideas and projects that may one day hit the marketplace.
More than 100 students participated in the university's summer entrepreneurship programs—Saunders Summer Startup, hosted by Saunders College of Business and the Albert J. Simone Center for Innovation and Entrepreneurship; Co-Up, hosted by RIT's Center for Media, Arts, Games, Interaction and Creativity (MAGIC); and Studio 930 RIT Design Consultancy, a multidisciplinary studio focused on the production of access and health technologies products.
Leondro McHenry's most recent invention was fueled by his frustration at not being able to see while maneuvering on his longboard through streets and walkways at night. The fifth-year electrical mechanical engineering technology major from Seattle worked with fellow students to create their business HiBeams. They developed IllumiSkate, intelligent headlights and taillights affixed to skateboards and longboards and adjusted based on the riders' motion. "With IllumiSkate, riders can see just about everything including cracks in sidewalks and pebbles, and cars and pedestrians can see me coming, too," said McHenry.
McHenry and his team joined the Saunders Summer Startup program, which assists in developing business concepts to where they are ready to seek angel investment. The program includes instruction across a variety of subjects, such as developing concepts, engaging in customer discovery, understanding intellectual property and seeking investment capital. Team members are from a variety of disciplines, to facilitate broad learning.
James Kemper, a fourth-year advertising and public relations student from Japan, worked with McHenry. He said the resources shared are invaluable.
"When you add up the resources— prototyping, market research, traveling for customer discovery—to everything our mentors are doing to help accelerate our businesses, this experience just can't be beat," he said.
Dana Wolcott, lead innovation coach for the Simone Center, is HiBeams' mentor and has been working with RIT students in the Saunders Summer Startup program since 2014.
"Each year, we are always thrilled by the broad spectrum of student innovators and potential businesses," said Wolcott. "There is a mix of software-based, Internet-based and hardware-based solutions. From an app that teaches children Arabic to an invention that utilizes electromyography to create products that monitor muscle movements to accomplish different tasks—we've got it all."
In addition, four student teams worked this summer in the MAGIC Center to develop games and apps through the Co-Up Program, designed to help fund multidisciplinary teams working on projects and experiences that lead to start-up products and commercial activities in digital media.
Jose Asilis, a 2017 graduate of RIT's engineering management program, and Dominic Cicilio, a fifth-year software engineering major, are developing software known as Pardo, a science-based Kahn Academy in virtual reality.
"Homeschoolers often do not have enough resources to buy or maintain a science laboratory and equipment," said Cicilio, from Fairfield, Vt. "Parents need a simple, effective and immersive way to teach children challenging science. Our program will work with existing devices like smartphones and virtual-reality headsets and will be an interactive medium for simulated science experiences."
Jennifer Hinton, assistant director of RIT's MAGIC Center, said that being a part of the summer entrepreneurship ecosystem makes RIT stand out among other universities. "Not only are our students engaged in creating products that will hopefully be available commercially, we are engaging faculty and alumni in helping our Co-Up students get the most of out their experience," she said. "We are growing, expanding, and the breadth and depth of the projects that are coming out of the MAGIC Center is a testament to this healthy growth."
Video extra
To watch a video about summer entrepreneurship on campus, go to bit.ly/RITentrepreneurs​.
Video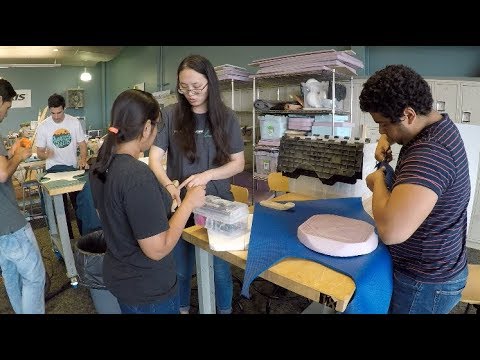 Topics