Sustainability building earns LEED Platinum status
World-class 'living lab' rated among the top 1 percent of 'green' buildings in the U.S.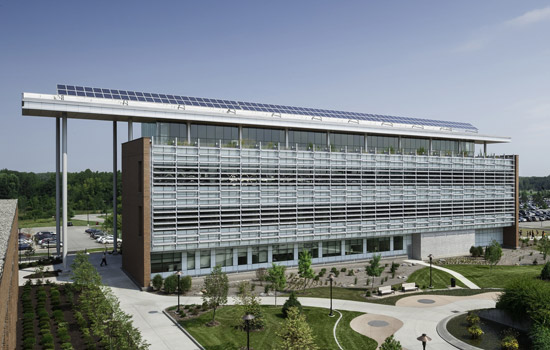 The Golisano Institute for Sustainability (GIS), a world-class "living lab" that represents Rochester Institute of Technology's ongoing commitment to the environment, has been certified Leadership in Energy and Environmental Design (LEED®) Platinum by the U.S. Green Building Council (USGBC)—the highest standard that can be achieved in the rating system.
With a score of 80 required to achieve Platinum level, the GIS building earned 89 out of a possible 110 points from the USGBC, which named the RIT facility "exceptional" and rated it among the top 1 percent of all green buildings in the United States today.
The LEED Platinum certification was recognized during a 10 a.m. ceremony today at GIS featuring Rick Fedrizzi, president of the Washington, D.C.-based USGBC, New York state and federal government officials, and local business leaders.
"LEED Platinum is a significant accomplishment for our multi-story research building, particularly given that it is such an energy-intensive facility combined with our challenging climate here in Western New York," said Nabil Nasr, associate provost and director of GIS. "We are especially proud that our building dedicated to sustainability has earned such a rare accomplishment, which required tremendous teamwork. I salute our building partners."
The GIS building was designed by FXFOWLE in collaboration with SWBR Architects. LeChase Construction Co. served as the design-build team leader, Stantec as civil engineering consultants and M/E Engineering for mechanical/electrical/plumbing systems design.
"Rochester Institute of Technology has embraced sustainability in many aspects of college life," said Tracie Hall, executive director, USGBC New York Upstate Chapter. "The achievement of LEED Platinum at the Golisano Institute for Sustainability presents global opportunities for ongoing education and research in sustainability. The collaborative and cooperative partnership between RIT's Golisano Institute for Sustainability and corporations is a terrific opportunity to create sustainable solutions to our environmental and energy challenges."
As a result of the building's energy-efficient systems and high-performance facades, 400kW fuel cell and the 40kW solar array, GIS is designed to be 56 percent more efficient than a standard building—exceeding the points in the LEED rating system's "optimize energy" credit. Designed with the capacity to optimize daylight and energy savings, the facility has extensive data sensors and feedback loops where RIT will monitor and inform building operations.
"Through its control systems and micro-grid technology, the GIS building has the capacity to be one of the most informative 'green' buildings in the world," said John Moore, RIT's assistant vice president for Facilities Management Services.
Nasr added that "our faculty is utilizing the building as a teaching tool, which is central to our mission as a living laboratory for sustainability."
The building has only consumed about a third of the electricity it has generated over the past year. The rest of the electricity is fed into the campus grid for use in other campus facilities. In addition, more than half of the building's water needs have been met using recaptured rainwater stored in a 1,700-gallon tank in the building's basement.
Cutting-edge "green" technology has been incorporated into every inch of the 84,000-square-foot building—from the solar panels on the soaring canopy to its vertical wind turbines.
"Congratulations to the Golisano Institute on this exceptional accomplishment. This building sets new standards for green building, and is a great example for other campuses and building owners to emulate," said John B. Rhodes, president and CEO, New York State Energy Research and Development Authority (NYSERDA). "As New York state continues to develop its clean-energy economy under Governor Cuomo, NYSERDA is proud to have been one of many partners who helped make this building an exemplary model of energy efficiency."
According to Enid Cardinal, RIT's senior sustainability advisor to the president, the facility's construction was environmentally benevolent as well.
"Eighty percent of building waste generated during the GIS facility's construction was diverted from the landfill," Cardinal said. "As part of this project, the university's first electric vehicle charging stations were installed and they have proven very popular on campus."
Construction of the GIS building began in 2011. The LEED Platinum certification marks the latest construction honor for the RIT facility. Engineering News-Record (ENR) New York named the building the region's best project in the "Green Project" category, which recognizes the country's best construction projects.
The New York State Association of General Contractors granted the project its Jeffery J. Zogg Build New York Award, which highlights the construction industry's positive impact on building and heavy construction in New York.
The GIS facility, RIT's fourth LEED-certified building on campus, marks RIT's second LEED Platinum project after the University Services Center earned the designation in 2010. RIT has two other LEED projects pending with Sebastian and Lenore Rosica Hall and Institute Hall.
GIS was established in 2007 with a $10 million gift from Paychex Inc. founder and philanthropist B. Thomas Golisano. RIT was awarded a $13.1 million grant by the National Institute of Standards and Technology Construction Grant Program, and $15 million in funding from the state of New York that was used toward construction of the facility and equipment.
"We commend RIT and their building partners," said Phillip Singerman, NIST associate director for Innovation and Industry Services. "The Golisano Institute for Sustainability already discovers and demonstrates green technologies. Now they can also inspire others with this remarkable LEED Platinum research facility."
Partners and affiliates include Xerox Corp., Staples Inc., Caterpillar Inc., Eastman Kodak, and Rochester Midland Corp., with support from the Henry Luce Foundation, the Helen and Ritter Shumway Foundation, and the Chester F. and Dorris Carlson Charitable Trust.