Taking multidisciplinary studies to the next level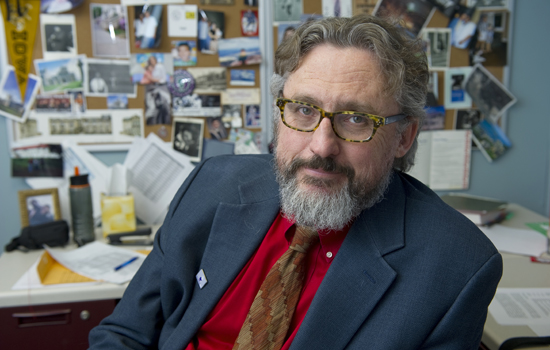 A. Sue Weisler
RIT's Strategic Plan in Action—Organizational Agility
James C. Hall, who joined RIT in August as the executive director of the Center for Multidisciplinary Studies, talks about the future of this academic unit, charged with developing individualized degrees, custom designed to meet students' ideas, interests and career goals.
RIT's new strategic plan focuses on Greatness Through Difference. How will the Center for Multidisciplinary Studies be a "difference maker" at the university?
Hall: CMS has a role to play in bringing the best and brightest — and most creative and entrepreneurial students — to RIT. This generation rarely chooses to buy CDs or albums, preferring to build their own playlists through the flexibility provided by iTunes. There's an expectation of choice as an expression of self, so I like to think of CMS as being in the business of helping to shape the academic "play-list." By providing outstanding advising and the expertise to negotiate a complex institution, we are best positioned to help students who want a customized academic experience, a degree that fits what they want to pursue in the world.
How can CMS be a "difference maker" for RIT students?
Hall: We provide affirmation, encouragement and access to RIT's very best resources, and we make room for the very best intellectual risks they want to take. We are a difference maker because we ask hard questions about the viability and sustainability of the pathways they want to make, and most importantly, we provide the kind of institutional space that supports curiosity and is attentive to life goals, even as it embraces learning for its own sake.
Is it fair to say CMS is at the forefront of the changes emerging in higher education?
Hall: We're at another peak moment in the cycle of reform and revolution that characterizes the history of U.S. higher education. There are a number of important developments, still in their infancy to be sure, that have the potential to alter how post-secondary education is produced and distributed. While there are still important challenges in fitting the content, support and testing systems of traditional classroom settings into online learning formats, rapid strides are being made. Another important development is individualized and flexible degree formats that respond to a student's intellectual strengths and career objectives, while taking into account the breathtakingly rapid change in technology and work place demands. CMS is in the lead in exploring just these imperatives.
With the new strategic plan now in place, how do you envision CMS in the future in terms of its services and its role in the university?
Hall: We've been at our best in meeting students where they are and getting them to the finish line. Quality advising and education via diverse pathways have been our signature. Now it's time to open up a space for an ambitious group of students to be entrepreneurial in the shaping of new curricular and career schemes. We want to build a learning and teaching space that encourages students to help us sort out what are going to be the most exciting degree programs of the future.
What role can RIT faculty play in the success of this emerging vision?
Hall: We need faculty to step up and share their expertise and enthusiasm. We are at our best in articulating to students the ways in which the university produces knowledge, evaluates learning, and delivers and manages credentials. We can't be expected to have the knowledge base to engage the curiosity and ambitions, the disciplinary need and career hope, of every single student. Faculty can help by offering advice and counsel, coaching and mentoring. They can brainstorm with us on the hard and real work of sorting out how to provide access for this out-of-the-box cohort to some of our most in-demand curricular offerings. We invite them to come to CMS offices with their own curiosity driven and silo-busting ideas for authentic teaching and learning experiences.
How can students learn more about what CMS has to offer?
Hall: We'd love to have them visit our offices on the second floor of Eastman Hall, stop by and speak to an adviser. Or they can email me at jchcms@rit.edu or call 585-475-2295.
Editor's Note: This story is part of a continuing series that demonstrates RIT's commitment to the new Strategic Plan.