Tapping leads to True Authentic Power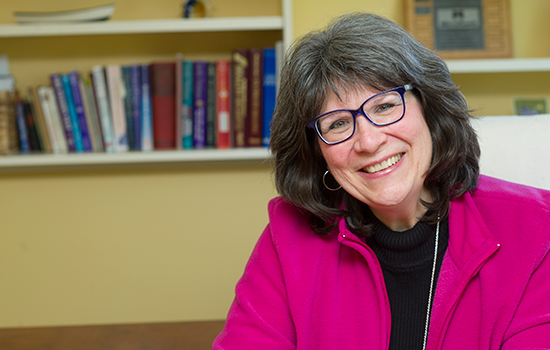 A. Sue Weisler
It took the sudden passing of her father, caretaking responsibilities for her ailing mother, a bout with breast cancer, the death of her beloved companion, and the decision to leave a corporate sales career she excelled at before Joanne Jaworski discovered her way to "True Authentic Power."
Jaworski realized she was suffering from emotional "dis-ease," and found a way to change her life through her fingertips.
"I realized all the trauma in my life didn't happen by accident," said Jaworski '80 (food administration). "That's when I learned about the Emotional Freedom Technique (EFT). It's acupuncture without needles, where the body's energy system achieves balance by tapping with our fingertips on selected points along energy meridians."
Jaworski honed her tapping skills with renowned EFT practitioners before opening her business, True Authentic Power, in 2009. She says the East-West therapeutic modality—tapping into the stories of a person's internal newswire and rewiring the circuitry—is for everyone.
"It can remove blocks, phobias, compulsive behaviors, unhealthy habits, emotional and physical pain, and everyday stress—and sometimes it can happen in one session, but it may take several rounds of tapping to help relieve deep-seated issues," said Jaworski, who works out of her home office in Greece, N.Y.
"You don't have to believe tapping works, but you do need to be open enough to trying it in the first place."
Tapping has a basic recipe: Identify a problem as a statement piece. For example, "I'm very upset about my career path, but I deeply love and accept myself." Rate the level of anxiety, and while reciting specific phrases out loud, use fingertips to tap five to seven times each on the body's meridian points and follow with more rounds until anxiety decreases.
"EFT practitioner Nick Ortner called it truth telling and I love that idea because people ask why you first focus on the negative, and that's because negative has a voice," said Jaworski. "When you start putting the positive in after the negative is when you start to see results. You can even tap as a surrogate to help those who can't do it for themselves."
More often than not, she said, painful childhood memories are the foundation of unwanted patterns that can lead to a lifetime of wrong decisions.
"A lot of pain and anxiety won't move if the emotions are stuck," she explained. "You have to go backwards to move forwards."
Tapping is also invaluable for manifesting lifestyle, relationships and career changes—even solving everyday workplace problems.
Jaworski recently participated in a webinar series (http://bit.ly/1qF7REg) for RIT alumni demonstrating True Authentic Power—and reported that one participant told her he had immediate relief from a two-year symptom he had experienced.
"My voice brought me my success in sales and now I use it to guide people to be the best they can be," Jaworski said. "Tapping is powerful, it works, and I love seeing what it does for people. I'm watching miracles."