Teams battle at offensive cybersecurity competition
Offensive cybersecurity competition at RIT helps to build tomorrow's cybersecurity experts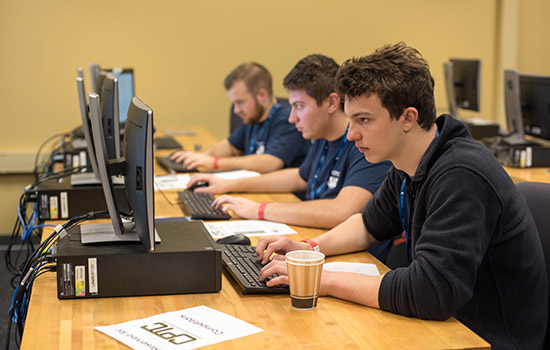 The nation's brightest cybersecurity college students traveled to Rochester, N.Y., to test their hacking skills in the annual National Collegiate Penetration Testing Competition.
The Nov. 3–5 event allowed students to learn about cybersecurity from a different vantage point—offense, as opposed to defense. Teams from 10 national universities faced-off at RIT's B. Thomas Golisano College of Computing and Information Sciences, breaking into fabricated computer networks, evaluating their weak points and presenting plans to better secure them.
The event is sponsored by several top tech companies, including Uber, Crowe Horwath and premier sponsor IBM Security.
Stanford University took home the top trophy in the competition, while University of Central Florida placed second and University at Buffalo placed third. The top teams were noted for their ability to verbalize, document in a written format and present their findings clearly to an audience that has a variety of technical understanding.
Student teams from RIT, University at Buffalo, University of Central Florida, Pennsylvania State University, University of New Haven, Dakota State University, Missouri University of Science and Technology, California State Polytechnic University, Pomona, Stanford University and City College of San Francisco participated in the weekend competition.
The competition, which is in its third year, allows students to experience a day in the life of a penetration tester—the in-demand security professionals hired to test and evaluate an organization's computer systems and networks to make sure malicious hackers can't get in.
"Cybersecurity is a major issue and it's important that future cyberdefenders are gaining these skills to help protect our nation's infrastructure," said Bill Stackpole, professor of computing security at RIT and director of the competition. "These experts also need to be able to speak 'tech' to the techies while at the same time being able to provide plain language information to those with less technical expertise."
For the competition, teams of three to six students interrogated a mock company's network. The following morning, they presented a report to the judges on their findings and offered their suggestions for mitigating risk.
This year's mock company was based on a computer services company that represented a faux elections provider.
"We try each year to present to the competitors an environment that has relevance to current events and for which we come up with an intriguing and interesting experience," said Stackpole.
Judges and sponsors from the security industry got to see how participants perform under fire, while students had the opportunity to meet with experts and hand out résumés.
Paul Crews, a fourth-year computer science student at Stanford University and captain of the Stanford team, credits his team's success to their lack of orthodox training and not placing a lot of pressure on themselves.
"This allowed us to examine and exploit the network in different and unexpected ways," said Crews. "We enjoy competitions like this because it provides an avenue for applying and learning real-world skills and gaining a perspective on what computer security looks like in a practical setting."
For Jered Geist, a University at Buffalo MBA student and captain, the team's wide-ranging degrees and backgrounds allowed them to attack and view problems from many different standpoints.
"I think our team was able to convey the business impact of our findings in a manner that stressed the need for security improvements that was understandable to a wide range of people, regardless of their own technical expertise," said Geist. "While many of us work in IT and security during the week, competitions let us come together as a team in an environment where we are able to support and teach each other new skills. It's crazy how much you can learn at events such as CPTC in such a short time frame."
The Collegiate Penetration Testing Competition is the premier offense-based college computing security event. Leading up to the national competition in Rochester, regional competitions were held across the country. CPTC is an effective counterpart to the Collegiate Cyber Defense Competition (CCDC)—with its national competition held annually in San Antonio—which is the premier defense-based event, requiring students to defend an infrastructure while performing typical business tasks.
"One of our favorite parts of the competition was getting to compete against some of the top schools in the nation," said Russell Babarsky, a third-year computing security student at RIT and co-captain of the RIT team. "We learned a lot from talking with some of the students from other schools and hope that they feel the same. It was an amazing experience and we are very excited to compete next year."
For more information on the Collegiate Penetration Testing Competition, go to nationalCPTC.org.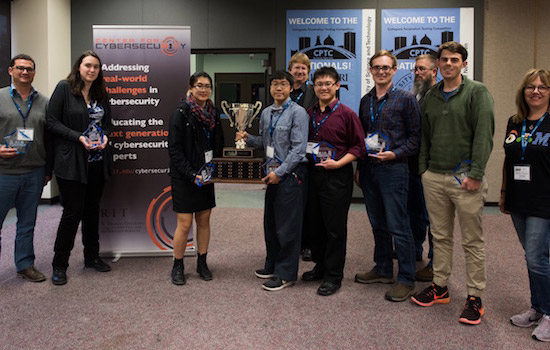 Nicholas Fealey
Topics