September 3, 2021
by Edward Brydalski
Technology Focused Graduate Programs Deliver Top Career Skills and STEM OPT Work Extensions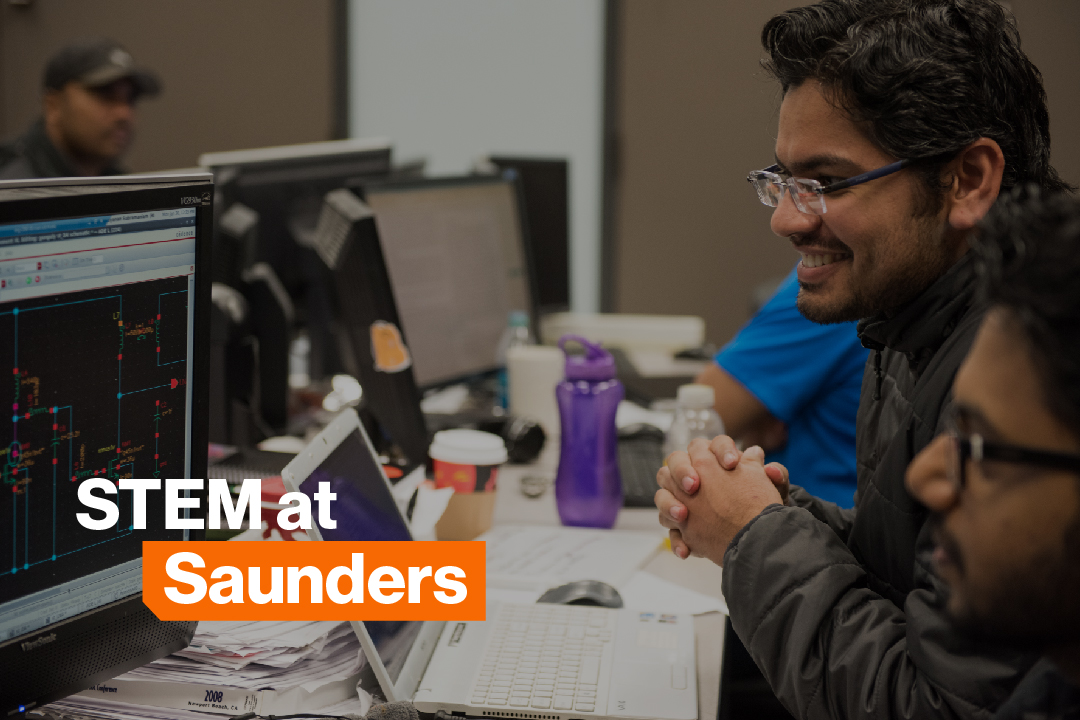 Saunders College of Business MBA and select master of science programs recently received STEM designations (Science, Technology, Engineering and Math). This ensures they meet the highest standards for technology skills in business while offering international students the ability to qualify for STEM OPT work extensions. The designations add to the Saunders' AACSB accreditation and recognitions such as being included in The Princeton Review's "Best Business Schools" list.
International (F-1) students receiving a STEM-designated graduate degree may apply for a 24-month work extension. This extension follows the one-year OPT (Optional Practical Training) period. This extension means that students could be eligible for up to three years of work in the United States.
The program extension provides international students with an opportunity to enhance their real-world experience. The increased time spent in the workforce supplements students' graduate studies and positions them as competitive candidates in their field.
Six Saunders Graduate Programs are now STEM OPT Visa Eligible
These programs deliver specialized technology and business skills for high-demand careers and are STEM OPT Visa Eligible to allow international students to work up to 24-months after graduation. All graduate programs share many technology advantages:
The resources of a major technology university with the ability to select elective classes across nine RIT colleges
Access to state-of-the-art facilities and the latest financial, analytics, and visualization software
A network of over 25,000 Saunders alumni worldwide
Flexible scheduling options
Solid technology core and foundation in business fundamentals
Experiential learning with paid co-ops and capstone projects
Master of Business Administration (MBA)
Stand out from the crowd and reach your full potential with a STEM-designated master of business administration (MBA) degree as only RIT can deliver it. At the center of a university recognized for technological excellence, a Saunders MBA gives you unparalleled options to customize your degree and flexible scheduling options for your convenience.  At the center of a university recognized for technological excellence, our core curriculum is taught by nationally recognized faculty and includes data analytics, business intelligence, information systems, and corporate social responsibility and business ethics.
Customize your degree with electives that place you in graduate courses from any of RIT's colleges offering nationally recognized programs in STEaM (Science, Technology, Engineering, Art and Math) disciplines. Make the most of your time at RIT and tailor your MBA for your future.
MS of Accounting and Analytics
Get a degree that you can apply to any business in any industry worldwide! Accounting is the main skill that every company requires, and Saunders' newly-revised one-year analytics-infused accounting program will put you on the fast track to career success. We based our accounting and analytics program on expert opinion shared in various journals and forums, the explicit demands of recruiters, our accounting advisory board, and student feedback. We bring together the vital areas of technology, accounting information systems, big data, AI, and advanced analytics centered on the foundational elements of accounting and auditing.
The master's degree in business analytics is delivered by the #3 ranked management information systems (MIS) faculty. Throughout the program, students gain control of big data to deliver robust analytics solutions to help companies make better business decisions
Businesses collect an incredible amount of data from accounting, finance, production, shipping, and nearly every customer touchpoint, including point-of-sale transactions, social media feedback, search engine entries, sales data, demographic information, and more. Business analytics students learn how to harness tools used by data scientists, including software such as VBA, R, Python, Tableau, Matlab, SAS, and SQL
Unlock the world of finance, including corporate finance, investment management, banking, insurance, consulting, and more. Learn the financial theories of risk, return, and valuation, and how to apply them to solve diverse problems. Courses also cover FinTech topics incorporating computational finance principles. Our finance program is designed specifically to prepare you for the Chartered Financial Analysts (CFA) exam, the most respected and recognized investment management designation in the world.
Finance students are backed by our finance advisory board, industry professionals that work to ensure excellence in finance. Students are also welcome to join the student-run the Next Generation of Accountants (NGA) chapter and network with professionals from the Big Four or join the Finance Management Association club and manage a real investment portfolio of $300,000.
MS of Global Supply Chain Management
Supply chain management professionals are the engineers of business. They touch and drive improvements through every stage of business life cycles, from suppliers, to production, to customer purchases. Products and services are becoming more complex to manage as they become globally integrated and reliant on technology.
 This one-year program at Saunders provides students with global supply chain knowledge that is reinforced by strong analytical, quantitative, and leadership skills needed to not only design innovative solutions and predict future trends but to become leaders in the fast-moving business landscapes in the global supply chain system. Harvard Business Review published that "The U.S. supply chain contains 37% of all jobs, employing 44 million people. These jobs have significantly higher than average wages, and account for much of the innovative activity in the economy."
MS of Technology Innovation Management and Entrepreneurship (MS-TIME)
Technology innovation managers and entrepreneurs who know how to lead technological changes in entrepreneurial ways are in high demand. As an entrepreneur and innovator, you lead the movement as you grasp how to identify problems and view them differently to create unique and creative solutions. Utilize RIT's unique resources in business, science, technology, engineering, and design to craft your future and make your ideas into reality.
Students can choose between two tracks within this STEM-designated program, technology management and technology entrepreneurship for endless career possibilities. In the technology management track, students develop advanced product development and data analytics skills targeting organizational management and strategy needs. The technology entrepreneurship track develops skills in starting and managing new ventures utilizing research and marketing analytics to evaluate market options and build strategy. 
MS-TIME graduates have a unique combination of technical and business expertise relevant to acting as intrapreneurs in large incumbent firms or entrepreneurs starting up new ventures. They will be ready to capitalize on process and product development opportunities in any industry.
Are you an international student interested in one of these programs? Apply today and, upon graduation, become eligible for the F-1 STEM OPT 24-month work extension!
Topics