Thomas Brown '02, '12, mechanical systems engineer, NASA's Jet Propulsion Laboratory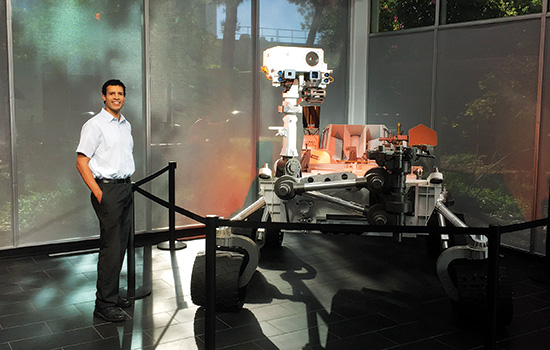 Space travel to Mars is the millennial generation's voyage to the moon, and Thomas Brown '02, '12 (mechanical engineering, microsystems engineering) is helping develop equipment that will generate oxygen from the Red Planet atmosphere. In future manned missions, this vital resource could be used to sustain life and help burn the rocket fuel that will bring astronauts back home.
Brown, a mechanical systems engineer with NASA's Jet Propulsion Lab, is helping to develop the Mars Oxygen In-Situ Resource Utilization Experiment, or MOXIE, a complex atmospheric acquisition and processing system that will be installed in the Mars 2020 robotic science rover.
"The instrument that I am working on has the potential to transform the future of Martian exploration," he said. "Developing technologies like the one I work on that could potentially reduce the resources we must bring to Mars to support life in the future could substantially reduce the cost of future manned missions to Mars."
Brown, a Rochester native, worked for several years at an automotive supply company after graduation, then returned to RIT to complete his Ph.D. in microsystems engineering. The multidisciplinary doctoral program gave him the chance to gain expertise in physics, chemistry and engineering disciplines and to explore new technologies that benefit innovative design projects, like the one he'd be assigned to at NASA.
"We're constantly learning new things about Mars," he said. "Knowing that the work I do is going to directly impact future manned missions to Mars is exciting. Being a lead engineer for an instrument that will do something that has never been done before makes for a dynamic workday."