Thought at Work coordinator talks about conference
Student Spotlight Zoë Gomer, third-year industrial design major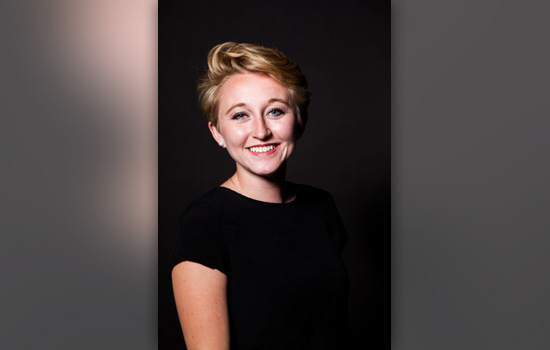 Zoë Gomer, a third-year industrial design student, is the current president of the RIT Industrial Designers Society of America. Gomer, from Hershey, Pa., is also one of the key organizers of Thought at Work, a student-run design conference held annually at RIT. In her time away from the classroom, Gomer enjoys her position as a resident adviser, playing viola, and catching up on her favorite shows on Netflix.
Thought at Work is a three-day, student-run, student-focused design conference that takes place every October at RIT. The conference brings together some of the best industry professionals with hundreds of passionate students for a weekend of inspiration, collaboration and instruction. This year's conference will take place Oct. 21–23.
Question: What brought you to RIT?
Answer: My major isn't offered at very many schools, so that definitely helped to narrow my search. In the end I was deciding between Drexel University, Virginia Tech and RIT. After touring all three schools and seeing their programs first hand, it was clear to me that RIT would be the best fit. It had the strongest, most practical industrial design program, and I loved the diverse community that was so prominent here on campus.
Q: What does it mean to be a designer at a "STEM" school, and how does RIT's collaborative environment shape the experiences that you've had as a design student?
A: It gives me, as a designer, the unique experience to work with all kinds of majors before I head out into the professional world. I feel like the experience gives me an advantage over other new competitors in the industry. It's also given me the opportunity to explore mediums and processes that I wouldn't have access to at other schools.
Q: What is Thought at Work, and how many students are involved?
A: Thought at Work is a student-run design conference that is held here on RIT's campus every October. The Thought at Work team is a group of about 30 dedicated students from different backgrounds that unite under a common passion for design. Our diverse team is made up of design, computer science, photo, film, engineering and media science majors that all bring unique perspectives to the conference. We have an incredible team this year that's led by a senior new media design student, Caleb Payne. He has done an amazing job of really bringing the whole team together.
Q: How did you get involved as a student-organizer?
A: I went to Thought at Work my first semester of freshman year and was really impressed that a group of students were able to put all of that together. When they advertised for the first recruitment meeting in the following semester, I went with a few of my friends. Each year I've taken on more responsibilities and I've gotten more involved. Through my involvement with Thought at Work, I've grown some of my closest friendships and met some really cool people who I might not have known otherwise.
Q: How much time and planning goes into the conference each year?
A: After the conference ends we take about two or three weeks to catch up on school work and sleep. Then we start to discuss what we want the next year's conference to look like. Spring semester is really when we start to get things moving for the next year, and it's a lot of work up until the day of the next conference in October. Even though we complain about our lack of sleep and late nights in the studio, we all have fun doing it together.
Q: What was your favorite part of last year's conference?
A: The people, definitely. Getting time in person with all of the talented designers that you follow on Instagram, Behance, or even LinkedIn is really incredible. Because it is student-run, the overall atmosphere is really relaxed so the attendees can go up to any of the speakers and have a conversation with them after. Last year, my roommates and I also hosted a few students from other schools. Making those connections was really fun.
Q: What are you most looking forward to about this year's conference?
A: Similar to what I said about last year's conference; I can't wait to meet this year's lineup of speakers and attendees.
Q: What are your professional goals following your graduation from RIT?
A: I am still trying to decide if there is a specific area of design that I am most interested in, so for now I'd like to work for a consulting firm. That will allow me to work on a variety of projects at the same time. Corporate, on the other hand, is known for its steady pay and regular hours, but as a designer you might not have as much variety in the projects that you work on. I would love to work in the fast-paced, non-stop environment present at most consultancies while I'm young. I think that kind of environment would allow for quicker growth and greater exposure to the design world and its offerings.
Lauren Peace compiles "Student Spotlight" for University News. Contact her atlmp1579@g.rit.edu with suggestions.
Topics