Thousands of students expected at job fair
More than 700 company representatives prove companies are hiring again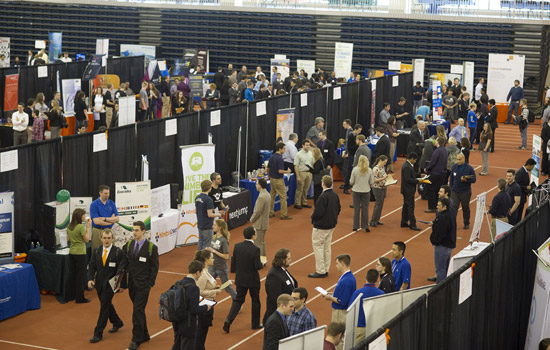 A. Sue Weisler
One of RIT's largest Spring Career Fairs is scheduled from 11 a.m. to 4 p.m. Wednesday, Feb. 26, in the Gordon Field House at Rochester Institute of Technology.
About 250 companies and more than 700 company representatives are registered, said Manny Contomanolis, associate vice president and director of RIT's Office of Cooperative Education and Career Services.
"The employers are fairly evenly split between those looking for entry level and experienced and those looking for co-ops and interns," he said. "We expect close to 3,000 students and alumni to participate."
A list of the participating firms is available online at http://www.rit.edu/emcs/oce/students/spring-and-fall-career-fairs.
More than 30 companies are recruiting for the first time at RIT. Nearly half of all employer participants are from outside New York, and about a quarter of them are based in the Rochester area. Many companies will stay an extra day to conduct personal interviews from those they have met at the Career Fair on Wednesday.
"The participation in this year's Spring Fair again reflects the tremendous interest hiring organizations have in the talent that RIT produces and the importance of career experience and positive career outcomes demonstrated by our students and graduates," Contomanolis said.
Third-year new media interactive development major Chris Knepper of Akron, Ohio, said he plans to get there early to beat the rush. The most familiar companies had the longest lines in the past, he said.
"Last year, I got a summer co-op with Brand Networks at High Falls (in Rochester) because I went to the Career Fair," Knepper said. "I'd be happy to go back for another co-op there, or go someplace else."