Tiger blood flows in Lawrence family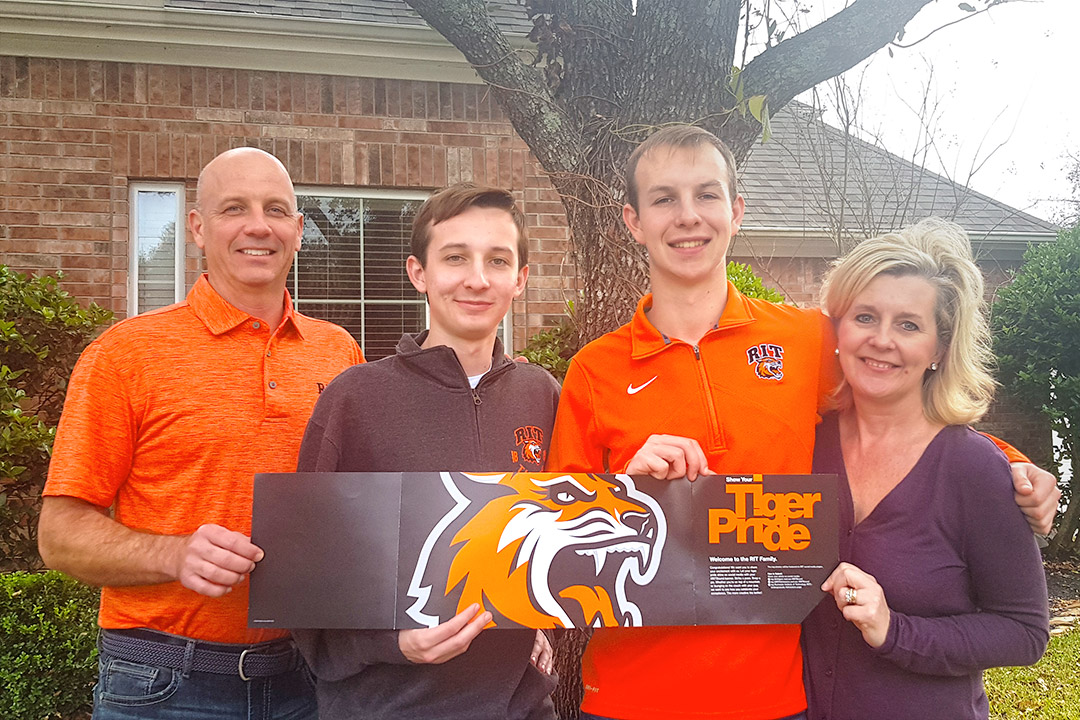 When new students come to RIT, they join the ever-growing Tiger family. For John B. Lawrence and his younger brother, Jared Lawrence, the Tiger family is more than just a proximal community; it's also based on actual bloodlines.
John B. is a fourth-year dual-degree computing security student getting ready to graduate with his master's degree in May. Jared is an incoming freshman who will major in packaging science. John B. and Jared's father, John Lawrence, graduated from RIT in 1993 with a degree in packaging science.
When both of their sons began looking at colleges, John and his wife, Maryjane, from Spring, Texas, made sure they didn't pressure either son to attend RIT. They knew the value the university offered, but they didn't want to make the final choice for them.
"My wife and I planned for the kids to go where they wanted and do what they wanted, within reason. RIT was always on the list of their college selections, but we kind of left it up to them. We aren't the kind of parents that force their kids to do things, but we did encourage them to make choices based on what they wanted out of their education and career," John said.
They wanted to give their kids freedom, but, like any parent, John and Maryjane wanted to make sure that their kids would be supported and able to thrive in whatever environment they chose. Having knowledge of the RIT student experience eased their parental worries when John B. headed off to college.
"It really lightened the load because we knew what to expect. We knew it was without a doubt an engaged academic community, and he wouldn't just be one of many students on a roster. His advisers know him, his professors know him, and that gives you a good feeling as a parent," said Maryjane.
John B., the Lawrences' oldest son, was originally hesitant about attending the same university as his father. However, after visiting several other colleges, RIT was a clear fit for him.
"RIT really makes you feel like a professional in your field while you're in school. The co-op program, how the courses are structured, and generally just the people who are around you create a pretty good environment for you to develop into the person you need to be when you leave college," he said. 
Now that Jared is ready to head off to college, he said his dad's and brother's experiences at RIT have made him more comfortable with his decision to attend the university.
"I'm already comfortable with the campus, especially having been up there on visits," Jared said. "I look forward to moving on to RIT. I am excited to leave the comfort of my own home and start on the next journey of my life."
Topics