Tiger Talk: Christine Whitman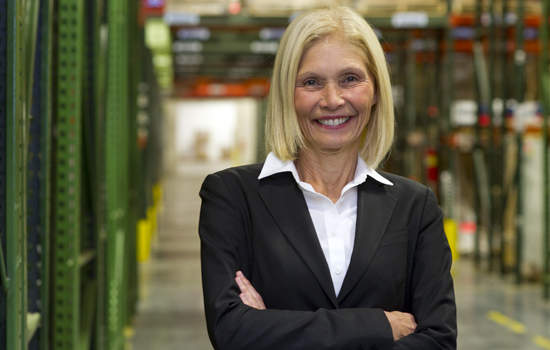 A. Sue Weisler
Christine Whitman is the new leader of the RIT Board of Trustees and the first woman to take the helm. She became the university's 19th chairman in November and will serve at least three years. Here she talks about her career, her role as chairman and the future of RIT.
My first job was at the University of Rochester in the biochemistry department. That was followed by a job at a company that was a spinoff of Kodak called CVC, which stands for Consolidated Vacuum Corporation. I became involved with the company because it was similar to the research I was doing in biochemistry.
I started there in 1978 and over the years I became involved in all of the different products that the company manufactured. I became the CEO of the company in 1990. At that point the primary product was making thin- film deposition equipment for the semiconductor industry and the data storage industry. We grew the company exponentially over the next 10 years. It was a very exciting time in the semiconductor industry.
In 2000, Veeco Instruments Inc. acquired the company. I went to work there as the president but as it happens with many acquisitions in business, it was not the right fit for me. I resigned from that business and decided to regroup. I formed CSW Equity Partners with a few other business associates. That was an investment firm where we invested in early-stage businesses.
One of those companies was Complemar Partners Inc. And at some point in our investment we decided we should get actively involved in running the company. I was nominated to be the CEO of that company and I have been doing that ever since.
That company is quite different from my semiconductor manufacturing equipment business but it is equally complex. It is a software platform and an order management and fulfillment company. We ship products all over the world for clients. You could call it a mini-Amazon-type company.
The key to any business is vision and perseverance. You can create the best business plan in the world, but all sorts of surprises occur and they are not usually good surprises. So you need to figure out how to exploit these as opportunities. You need ingenuity. You have to be prepared to pivot and to think long term.
I've hired hundreds of RIT alumni. I am so grateful to RIT because RIT has really helped make my companies successful. I was invited to serve on an advisory committee for the Kate Gleason College of Engineering, and I was very interested in getting students' schedules freed up for more classes in communication so that they would be ready to take on the jobs that required being able to communicate not only throughout the United States but throughout the world.
I served on that committee for some period of time and then (former RIT president) Al Simone contacted me and asked me if I would be interested in serving on the board and, of course, I was honored with his request.
I think RIT, under Al Simone, really made huge strides in terms of moving from a regional institution to a nationally recognized organization. Under Bill Destler, it has taken another leap forward. I am proud to be a part of that and to be able to say that I came along for the ride.
I have served as CEO of a semiconductor manufacturing equipment company when there were no women and I traveled to Japan and Korea when the only women you would see in an office were those serving tea. So I'm used to being one of the minorities. What I have learned over the years is as long as you deliver, it really doesn't matter whether you are a man or a woman or whoever you are. If you have what your constituents need, you can get the job done.
I would like to be remembered for having served as chairman during the time that we effectively deployed the 2015-2025 strategic plan. That involves an enabling and affordable education for our students. It involves solving problems with our diverse student body and it involves preparing great citizens for our world.
Work Experience
Chairman and CEO of Complemar Partners Inc., a growing logistics company providing order and product fulfillment services and software with operations in New York, Pennsylvania and Nevada.
Managing Partner of CSW Equity Partners, where she manages a portfolio of investments in early- stage companies.
Previously served as chairman, CEO and president of CVC Inc., a worldwide supplier of thin- film process equipment for the semiconductor and data storage industries. During her tenure, she grew the business 10 times in revenue, led a successful IPO and completed the sale of the company to Veeco Instruments.
Boards
Serves on the boards of Soleo Communications, Voiceport, OneStream Networks, George Eastman Museum, Venture Creations, the New York state Finger Lakes Regional Economic Development Council and past chair of the Board of Trustees of the Rochester Museum and Science Center.
Awards
Herbert W. VandenBrul Entrepreneurial Award, 2000; Center for Governmental Research Eastman Legacy Award, 2003; Nathaniel Rochester Society Award, 2004; United Way Alexis de Tocqueville Award, 2008; Girl Scouts Woman of Distinction Award, 2011; RIT Volunteer of the Year Award, 2011; Catholic Family Center Award, 2012.