Tiger Tank 2015 names winners
Top team received $2,000 cash and a scholarship to Saunders College of Business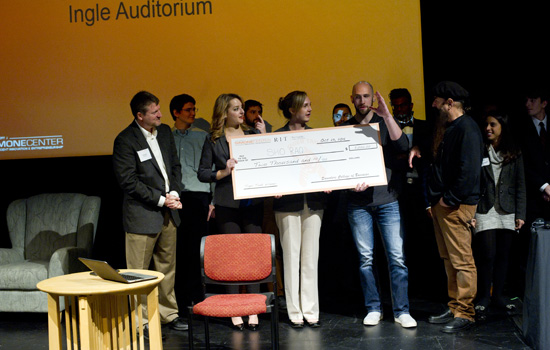 A Sue Weisler
Tiger Tank competition roared to the finish line during the 12th annual Entrepreneurship Conference last Friday.
First place went to ShoRaq, an intuitive interface that allows users to purchase specialty clothing from merchandise seen in their favorite shows and movies. The winning team received a $2,000 cash award and a scholarship to attend one of the graduate degree programs at Saunders College of Business.
Team Body Cool earned second place for a cooling device worn by people with multiple sclerosis to discreetly control their symptoms during warm weather.
RIT's Tiger Tank gives students the opportunity to pitch their business idea to a group of judges (aka, tiger sharks) to win cash prizes and scholarships. Out of more than 70 competitors, five teams competed during the event, sponsored by Saunders College of Business and hosted by the Albert J. Simone Center for Student Innovation and Entrepreneurship.
Topics