Time Warner Cable leads sponsorship of Imagine RIT
'Connect a Million Minds' program aims to inspire youth for May 3 festival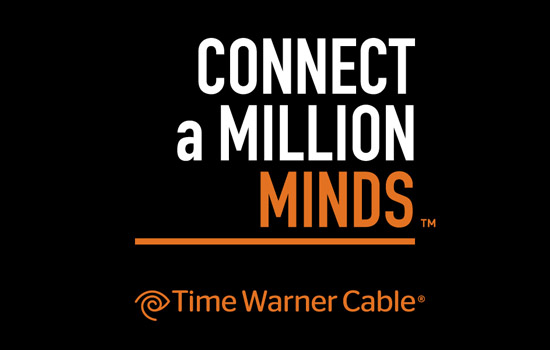 Time Warner Cable is the premier sponsor for the 2014 Imagine RIT: Innovation and Creativity Festival, to be held May 3 on the Rochester Institute of Technology campus.
Imagine RIT is the university's signature event, a showcase that displays the ingenuity of students, faculty and staff. It is the fifth consecutive year Time Warner Cable has led the sponsorship of the festival.
"Time Warner Cable has been a longtime supporter of the Imagine RIT Festival. And through our Connect a Million Minds program, which offers hands-on STEM (science, technology, engineering, math) learning to tomorrow's problems solvers, our employees are able to engage with communities and students in impactful ways," said Terence Rafferty, regional vice president of operations for Time Warner Cable. "For us, it's all about inspiring kids to think differently about learning, finding a passion and giving them options for future careers. It benefits everyone when our future workforce is better positioned for success into the future and we are proud to be a part of that with RIT."
The festival is now in its seventh year and has established itself as both a campus and Rochester tradition. More than 175,000 visitors have attended the festival since it began in 2008.
"Time Warner Cable's 'Connect a Million Minds' initiative is inspiring the next generation of problem solvers by connecting young people to the wonders of science, technology, engineering and math," said RIT President Bill Destler. "We are excited to have Time Warner as partners once again as we share this important mission related to making STEM both educational and fun."
"Nearly 400 exhibits will be on display at the free festival," said Barry Culhane, Imagine RIT chairman. "This year's festival promises to deliver new discoveries sparked by ingenuity among students, faculty and staff. This is an interactive festival and Imagine RIT has opportunities for everyone," said Culhane.
Along with Time Warner Cable, the following sponsors of the 2014 festival to date include:
Gold: Democrat and Chronicle Media Group
Silver: Rochester General Health System
Bronze: The Province
Friends of the festival: Advantage Federal Credit Union, Barnes and Noble @ RIT, Barry Culhane and Chris Licata, Greater Rochester Enterprise, Hammer Packaging, IBC Engineering, P.C., Monroe Community College and Paychex.
For more information on the festival, go to www.rit.edu/imagine.